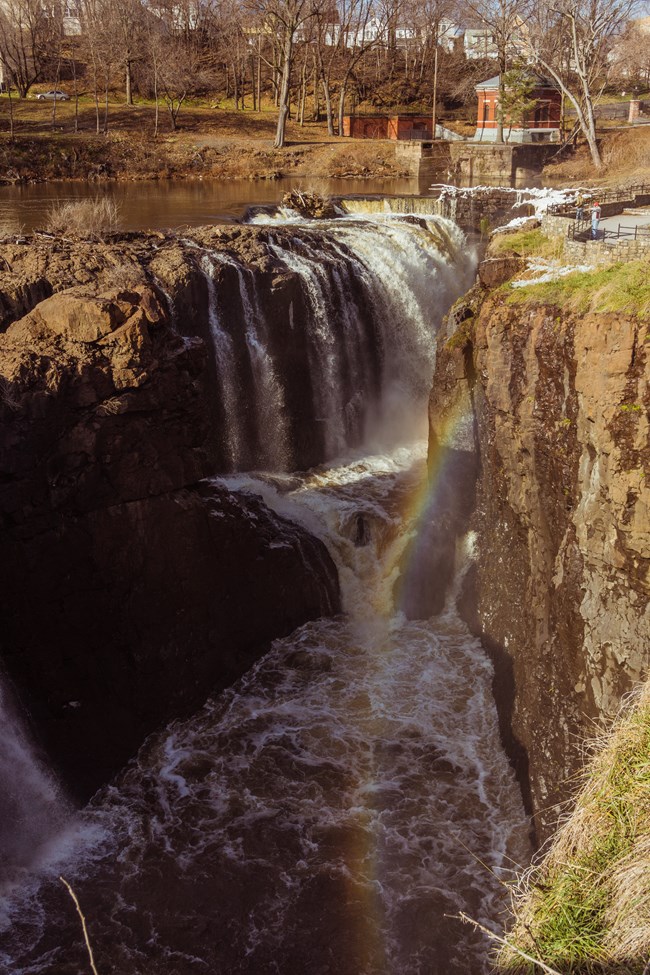 Visiting the Park
Welcome Center Hours:
The Welcome Center hours are seasonal, and are subject to change. The Welcome Center is currently open Monday through Friday from 9:00AM - 5:00PM, as staffing permits, and closed Saturday through Sunday.
Please check the alerts or Contact Us before you visit to receive the latest updates regarding changes to programming schedule and weather closures.
Guided Tour: A Stroll Through History
Visitors Please Note:
In cases of inclement weather such as cold, dangerous thunderstorms or extreme heat, a talk in the Welcome Center will replace the walking tour.
Tours are currently offered Monday through Friday, beginning at 2:00PM, as staffing permits.
Join a tour and discover the greater story behind Paterson and its Great Falls. Our story is one of national importance. It demonstrates that the natural and cultural diversity of the area helped fuel the economic and social growth of a young nation. Discover how the natural world inspired a founding father, entrepeneurs, immigrants, poets, and artists to build the nation's first planned industrial city and changed the world.
Logistics:
Meet at the Welcome Center at 65 McBride Avenue Extension.
Appropriate for adults and families.

Please wear comfortable and weather-appropriate clothing. Wear sturdy shoes/sneakers.

In most cases, tours will be conducted rain or shine, however, in cases of severe weather, such as snow storms, nor'easters, dangerous electrical storms, and extreme heat, tours will be canceled or changed to a talk in the Welcome Center. Walking tours

will last 45-minutes to 1-hour over a distance of one mile.
Guided tours led by the National Park Service, or its partners, can follow paved, wheelchair-accessible routes (assistance may be required, especially along narrow city sidewalks). If you have any concerns, please Contact Us.
If you are interested in making a reservation for a guided group tour, please see below.