Public Programs & Special Events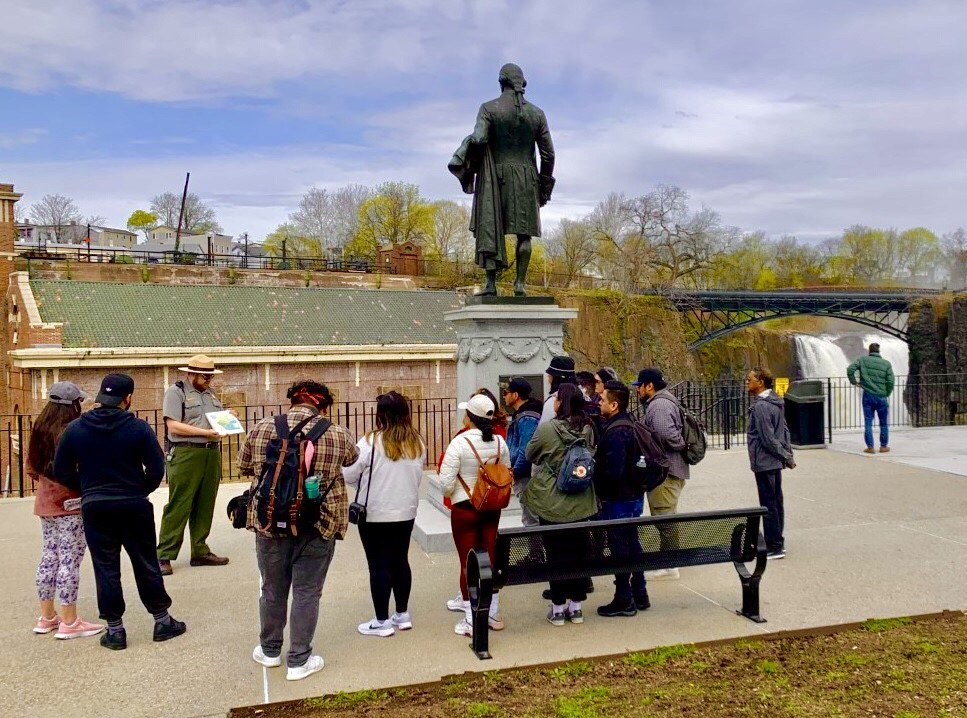 Explore Paterson's history, culture, and environment with one of our public programs:
Public Walking Tours:

A Stroll Through History - The Paterson Great Falls Orientation Walking Tour
Appropriate for families, elementary, middle school, high school, and college/adult groups.

The story of Paterson and its Great Falls demonstrates that the natural and cultural diversity of the area helped fuel the economic and social growth of a young nation. Join a staff member for this 45-minute to 1-hour, 1-mile walk to discover how the natural world inspired a founding father, entrepreneurs, immigrants, poets and artists to build the nation's first industrial city and changed the world.

Please wear comfortable and weather-appropriate clothing/shoes. The walk will be on along paved and unpaved paths with uneven footing. Guided tours led by the National Park Service, or its designees, can follow paved, wheelchair-accessible routes (assistance may be required, especially along narrow city sidewalks). If you have any concerns or questions, please contact the park.
When:
Wednesday-Sunday at 2PM
Reservations:
Please call 973-523-0370 the day of your visit to ensure availability.
Where:
Meet at the statue of Alexander Hamilton in Overlook Park at the
main park address
.
Safety Alert:
- Guided programs may be shortened or cancelled in cases of severe weather or if there is excessive heat or cold. Please review our
safety guidelines
and
contact the park
during
staffed hours
if you have questions day-of.
Self-Guided Walking Tour
Visiting the park but can't attend a ranger guided tour? Try our free self-guided walking tour! Learn the history of Paterson and the Great Falls at your own pace. Explore the official Mill Mile page or ask a ranger for more information.
Program Reservations
Interested in a program at the Park, having a ranger visit your location, or a virtual program? Check out our Education Page for a variety of school and adult education offerings! Otherwise, to request a specialized program, visit our Program Reservations Page.
Please note: we are encouraging all participants to practice current state and local COVID-19 guidelines for outdoor gatherings - mask wearing and following proper social distancing guidelines. If participants are not properly following COVID-19 guidelines, the staff member has the right to stop the tour at any time.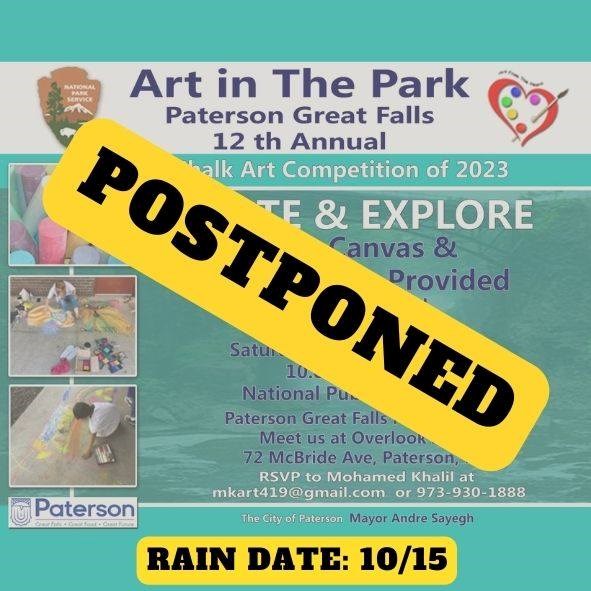 Postponed Create and Explore - 12th Annual Art in the Park Event
The Art in the Park event has been postponed due to inclement weather. The new date is October 15 and the time has been changed to 12:00pm to 3:00pm. Thank you for your understanding and stay safe this weekend!
Paterson Great Falls National Historical Park is hosting the 12th annual Art in The Park event at Paterson Great Falls on September 23, 2023! This includes a Chalk Art Competition and other opportunities to create art, connect with community, and spend time in our beautiful park. For more information, email mkart419@gmail.com or call 973-930-1888. We hope to see you there!
Image description: A flyer advertising the Art in the Park event with images of chalk art and a teal background with the Falls.
Image text:
"Create & Explore
Chalk, Canvas, & Refreshments Provided
Space is limited - first come, first serve
Saturday, September 23, 2023
10:00am-2:00pm
National Public Lands Day
Paterson Great Falls National Park
Meet us at Overlook area
72 McBride Ave Ext., Paterson, NJ
RSVP to Mohamed Khalil at mkart419@gmail.com or 973-930-1888"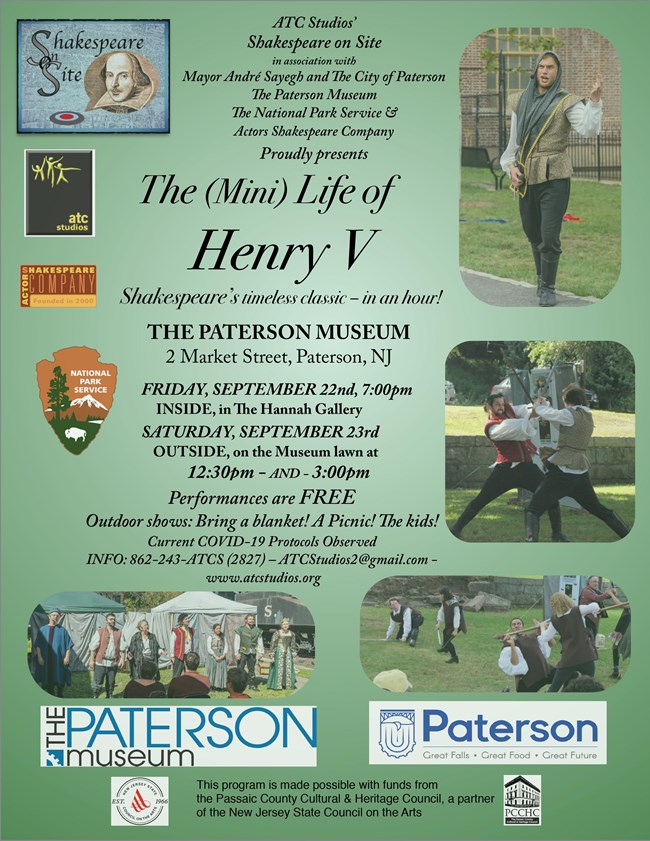 "The (Mini) Life of Henry V" -Shakespeare's timeless classic – in an hour!
atcstudios.org/shakespeare
Friday, September 22 at 7PM
Inside the Hannah Gallery at the Paterson Museum, 2 Market Street, Paterson, NJ
Saturday, September 23 at 12:30PM and 3:00PM
Outside on the Museum lawn at the Paterson Museum, 2 Market Street, Paterson, NJ
Bring a blanket and a picnic!
Current Covid-19 protocols observed.
Brought to you by:
ATC Studios'Shakespeare on Site
in association with
Mayor André Sayegh and The City of Paterson
The Paterson Museum
Actors Shakespeare Company
For information:
862-243-ATCS (2827)
ATCStudios2@gmail.com -
www.atcstudios.org
This program is made possible with funds from the Passaic County Cultural & Heritage Council, a partner of the New Jersey State Council on the Arts.
Last updated: September 22, 2023