Park Tours and Special Programs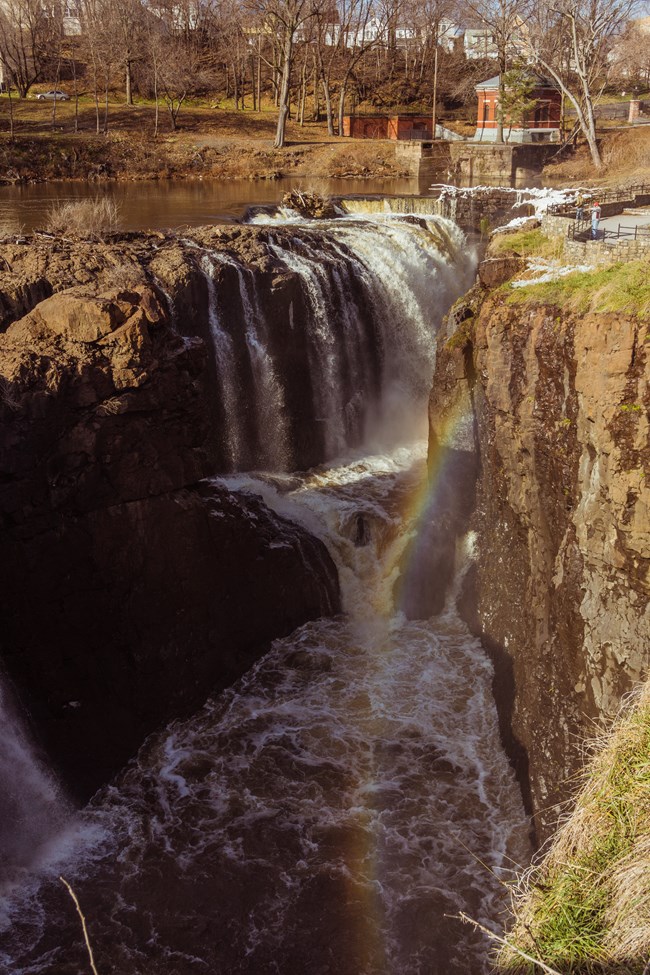 Visiting the Park
Welcome Center Hours:
Fall/Winter Hours
The Welcome Center is open Wednesday through Sunday from 9:00 AM - 5:00 PM and closed Monday and Tuesday.
When staffing permits, the Welcome Center may open from10:00 AM - 5:00 PM Monday and Tuesday. Please call ahead of time to confirm the schedule if you would like to visit the Welcome Center on Monday and Tuesday.
Park grounds are open seven days per week from sunrise to sunset. Areas may be closed if unsafe conditions, such as ice, are present.
Mill Mile self guided walking tour app available on Google Play or iTunes. You can access the audio tour from your cell phone by dialing (973) 582-0654. At each stop, enter the stop number followed by the # sign.
Please check the alerts, Contact Us, or our Facebook page before you visit to receive the latest updates regarding changes to programming schedule and weather closures.
Guided Tour: A Stroll Through History
Fall/Winter Schedule
Tours are offered Wednesday through Friday at 2:00 PM, Saturday and Sunday at 11:00 AM and 2:00 PM.
Visitors Please Note: In cases of inclement weather such as cold, dangerous thunderstorms or extreme heat, a talk in the Welcome Center will replace the walking tour.
Our story demonstrates that the natural and cultural diversity of the area helped fuel the economic and social growth of a young nation. Discover how the natural world inspired a founding father, entrepeneurs, immigrants, poets, and artists to build the nation's first planned industrial city and changed the world.

Logistics:
Meet at the Welcome Center at 65 McBride Avenue Extension.
Please note: McBride Avenue Extension is the same street as Mayor Lawrence "Pat" Kramer Way. You may see street signs that include both street names on them.
Appropriate for adults and families.

Please wear comfortable and weather-appropriate clothing. Wear sturdy shoes/sneakers.

In most cases, tours will be conducted rain or shine, however, in cases of severe weather, such as snow storms, nor'easters, dangerous electrical storms, and extreme heat/cold, tours will be canceled or changed to a talk in the Welcome Center. Walking tours

will last 45-minutes to 1-hour over a distance of one mile.
Guided tours led by the National Park Service, or its partners, can follow paved, wheelchair-accessible routes (assistance may be required, especially along narrow city sidewalks). If you have any concerns, please Contact Us.
If you are interested in making a reservation for a guided group tour, please see below.
Tour Reservations
As staffing permits, groups may be able to schedule a tour with park staff or volunteers. Please note that these tours will still be open to the public to join.

Please Note: Groups must submit a request form at least two weeks prior to their desired tour/program date(s). If a request is received with less than two weeks notice, efforts will be made to accomodate the request with no guarentees. Reservation request forms will be checked once a week, and a ranger will reach out to you with calendar availability.

Please note: Submission of the request form does not mean that you have scheduled a tour/program. Your tour/program has not been scheduled until you have received correspondence from a Paterson Great Falls Ranger, and until you have responded with a confirmation of your own. Upon receiving an offer from the park, your group will tentatively be placed on the park calendar to reserve your tour/program time. If we do not receive a confirmation from the group contact within one week, we will assume that the group cannot make the offered tour time, and remove the group from the calendar so we can make that time slot available for another group.

Please note: The park can currently accommodate reservation requests for offsite presentations within 25 miles and 45 minutes driving distance of the park in addition to onsite park tours.

If you would like to request a reservation for a tour of the park, or if you would like to request a park staff member to come to your organization, please fill out our Reservation Request Form.
School Programming
Teachers, are you interested in your students learning about the Falls? Visit our Education Page to learn more about our programs and set up a reservation.
Self-Guided Walking Tour
Listen to the history of Paterson as you stroll along at your own pace. Download the free walking tour app called the "Mill Mile" or dial into the cell phone tour.
Visit the Paterson Museum
The Paterson Museum, located at 2 Market Street, has the following regular hours of operation. Parking is available on-site for Museum patrons, or you can park your vehicle at the park and walk. The Museum is about 2 minutes away.
Hours of Operation:
Monday - Saturday: 9:30 AM - 4:30 PM
Closed: Sunday
Closed: Federal and City Holidays, please contact the Museum directly for more information at 973-321-1260.
City Holidays:
New Year's Day
Reverend Doctor Martin Luther King Jr. Day
President's Day
Good Friday
Easter Sunday
Memorial Day
Fourth of July
Labor Day (call the Friday before for specific hours)
Columbus Day
Election Day
Veteran's Day
Thanksgiving
The Friday after Thanksgiving
Christmas Eve (call that day for specific hours)
Christmas Day

Groups may also schedule events/tours at the Paterson Museum by calling 973-321-1260 Monday - Friday.
Additional Nearby Happenings
If you'd like to learn about special events to attend in and around the park, there are a couple of places you can look!

Our Calendar highlights all special events being put on by the National Park Service at Paterson Great Falls National Historical Park.

Our Special Events Page highlights events being put on in surrounding areas of interest by partners and friends, as well as events being put on by the National Park Service at Paterson Great Falls National Historical Park.
Last updated: January 16, 2020