News Release
Paterson Great Falls Hosts Fifth Naturalization Ceremony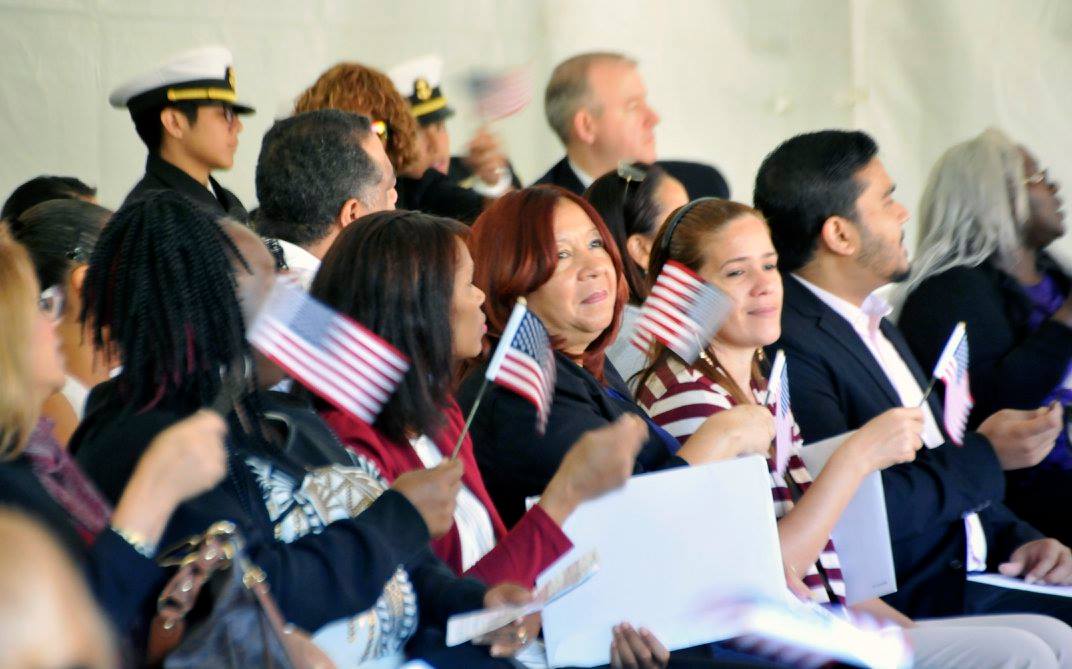 News Release Date:
September 24, 2019
Contact: Molly Zipkin, 973-523-2760
Paterson, NJ – Paterson Great Falls National Historical Park (NPS), in partnership with U.S. Citizenship and Immigration Services (USCIS), will hold a naturalization ceremony in the park's  new amphitheater on October 2, 2019. Paul Correia, Field Office Director, USCIS Newark Field Office, will administer the Oath of Allegiance to 40 new citizens, mostly residents of Paterson.

Darren Boch, Superintendent of the Paterson Great Falls National Historical Park, is thrilled that the park is set to host its fifth annual naturalization ceremony. "It's fitting to become a new citizen here, as this was the site of the nation's first planned industrial city, a city built by immigrants and founded by Alexander Hamilton, himself a great immigrant success story."

The naturalization ceremony is an opportunity to recognize the rights, responsibilities, and importance of citizenship. New citizens, their families, friends, and the public are invited to share in the long tradition of welcoming our new citizens at this memorable event.    

The ceremony begins at 11:00 am and will feature remarks by Paterson Mayor André Sayegh, Steven M. Rose, Ed.D., President of Passaic County Community College, and Congressman Bill Pascrell, Jr. Seton Hall Army ROTC will perform the Presentation of Colors, Ariel Lampley will sing God Bless American and the National Anthem, and the Daughters of the American Revolution will assist in passing out citizenship certificates. The park's Friends group, the Hamilton Partnership for Paterson, is supporting the event and their program director, Sarai Perez, will be leading the candidates in the Pledge of Allegiance.

 
ABOUT THE PARK: Paterson Great Falls National Historical Park is the location of the nation's first planned city of industry. The city was established in 1792 by Alexander Hamilton, centered around the Great Falls of the Passaic River. From humble mills rose industries that changed the face of the Unites States. The park includes historic grounds, buildings, the second largest waterfall on the east coast, and the National Park Service's only baseball stadium. For further information, call the park Welcome Center at 973-523-2210, check the website at https://www.nps.gov/pagr or visit https://www.facebook.com/PatersonGreatFalls.
Last updated: September 24, 2019