Alamo Canyon Campground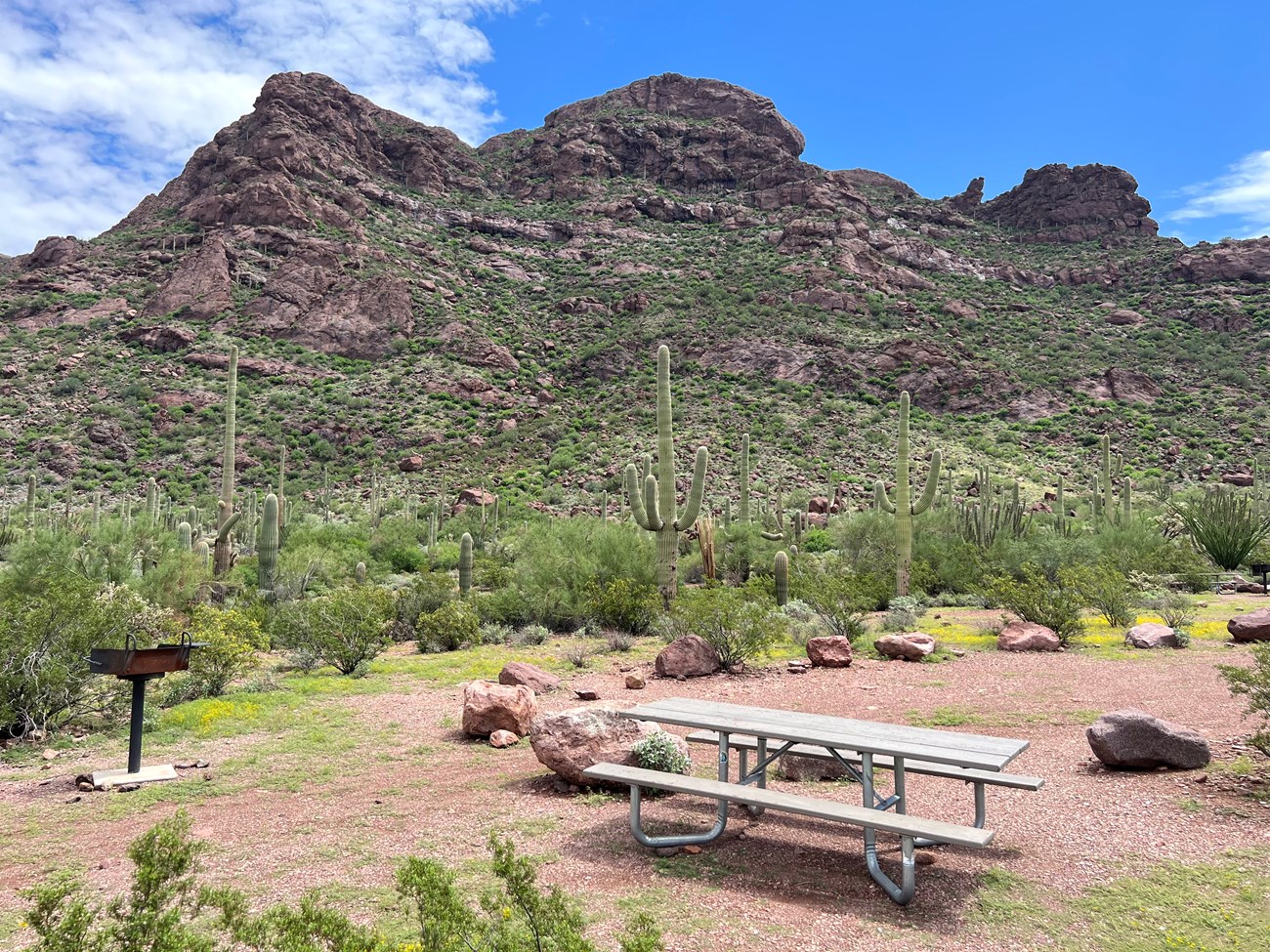 Quiet and Solitude in the Heart of the Sonoran Desert
Alamo Canyon Campground sits nestled at the base of the eastern mountains in Organ Pipe Cactus. This primitive campground provides scenic views of the surrounding mountains and Sonoran Desert, along with spectacular night sky viewing and peaceful quiet.

Reservations for camping at Alamo Canyon Campground are made through Recreation.gov or by calling 877-444-6777. Reservations can be made the same day or up to six months in advance.
Fees
Camping permits are $16.00 per day and holders of the Golden Age/Senior or Access Pass receive a 50% discount.
The park entrance fee is not included in the camping fee and is $25.00 per vehicle for 7 days. Interagency pass holders do not pay an entrance fee; please show your pass to a ranger at the visitor center
Basic Information
Alamo Canyon Campground has four campsites with charcoal grills, tables, a pit toilet and trash cans.

Tent camping only; RVs, motorhomes, and trailers are not permitted. Campers may use sleeping bags, tents, passenger cars, pick-ups with camper shells or small camper unties mounted in the bed of a pickup truck, or vans with pop-up sleeper units.
Camping is by reservation only and is limited to 7 consecutive calendar days.
A maximum of 5 people per site per night is allowed.
Campsites are limited to a maximum of 2 vehicles per site per night and each vehicle must be parked within the space provided.
Check-out time is 11:00 am and check-in time is 1:00 pm.

Wood fires and ground fires are not allowed.

Generators are prohibited.
Directions to Alamo Canyon Campground
There is no road sign along the highway for the Alamo Canyon Road. Alamo Canyon Road is located at milepost 65.5 on the east side of Highway 85, on the north side of the concrete bridge that crosses the wash. Alamo Canyon Campground is located at the end of the Alamo Canyon Road. The road is a three-mile graded dirt road suitable for all cars.
Alamo Canyon Campground
Basic Information
Cell Phone Additional Information
Internet Additional Information
Accessibility Information
Last updated: June 11, 2023