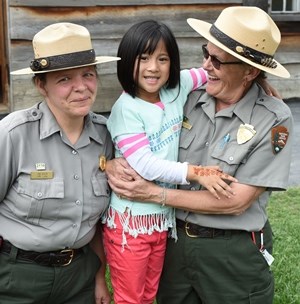 One National Park System. One century of stewardship. One extraordinary year.
You get one shot to make the most of a major milestone like the National Park Service Centennial and you helped us knock it out of the park. Much more than a year of celebrations, our centennial was an invitation and a Call to Action to every American.
In 2016, we invited you to Find Your Park: to discover the places and stories that have special meaning for you. In the Northeast Region, the stories grew more inclusive of all Americans with the designation of Stonewall National Monument in New York City and the addition of Werowocomoco in Virginia to the National Park System. We protected the iconic landscapes of northern Maine for future generations with the creation of Katahdin Woods and Waters National Monument.
We invited fourth graders to see history come alive at a national park and receive their Every Kid in a Park pass. We invited you to create films, music, and artwork inspired by national parks and you blew us away with your creativity and passion. And we asked you to share your stories and experiences in national parks on social media...and did you ever! You tweeted the ranger emoji, shared your photos on Instagram, and joined us live for sunrises and special events.
And we're just getting started. Join us for the second century of caring for and enjoying America's treasures. Hike a new trail, participate in a volunteer project, or grab a friend and Find Your Park together! With your help, the National Park Service will be here to "preserve unimpaired the natural and cultural resources and values of the national park system for the enjoyment, education, and inspiration of this and future generations."
Find Your Park!

Mike Caldwell
2016 Northeast Regional Director