News Release
Update: Vandals located for incident at Devils Hole, Death Valley National Park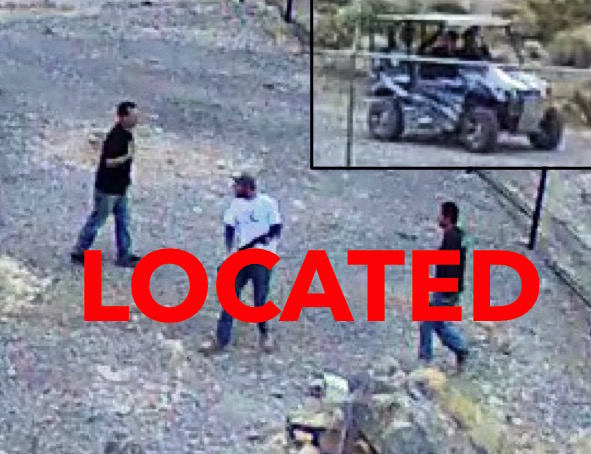 News Release Date: May 10, 2016

Contact: NPS Investigative Services Branch, Tip Line (888) 653-0009
Update: Investigators have located those involved with the recent vandalism at Devils Hole 
A multi-agency investigation has led to the identification of the men believed to be responsible for trespass and vandalism at Devils Hole, Death Valley National Park.
Though no further details are available at this time, the NPS Investigative Services Branch (ISB) wishes to thank the members of the public for sending in tips and providing helpful information. ISB Special Agents are working with US Park Rangers, investigators of the US Fish and Wildlife Service, and the Nye County Sheriff's Office as this active case continues.
Related News Release Date: May 6, 2016
Reward offered and investigation underway to identify vandals at Devils Hole
The National Park Service (NPS) is offering up to $5,000 in reward for information leading to the arrest and conviction of those responsible for vandalism and trespassing at Devils Hole in Death Valley National Park.
The detached unit of the park protects the only natural habitat of endangered Devils Hole pupfish (Cyprinodon diabolis). Only 115 pupfish were counted in last month's population survey, and one of those was found dead after the incident.
At around 7:20 p.m. on Saturday, April 30, three men drove an OHV (off-highway vehicle) around a secured gate at the Devils Hole parking lot. The men shot signs, the locks on two gates, and a motion sensor on the security system, discharging a firearm at least 10 times. One of the men swam in Devils Hole and left his boxer shorts behind in the water. Alcohol was a factor in this incident; the men littered the site with beer cans and vomit. 
Park employees found the dead fish and vandalized site on Monday, and ISB Special Agents responded to the scene to investigate. A necropsy is being performed on the pupfish to determine whether the vandals' actions may have caused the death of this member of an endangered species.
Although the men attempted to dismantle the security system by shooting a motion sensor and removing cables from two cameras, parts of the system continued to function during their entire time at Devils Hole.
Video cameras recorded the men climbing over the fence and driving away in the direction of Crystal. The involved OHV may have been a blue Yamaha Rhino, extensively customized with an added seat and safety cage. 
ISB Special Agents are working with investigators of the US Fish and Wildlife Service and Nye County Sheriff's Office on this case. If you can help identify those responsible of have other information about this incident, please contact us. You don't have to tell us who you are, but please tell us what you know.
ISB: the Investigative Services Branch of the National Park Service
Last updated: May 10, 2016