News Release
Man pleads guilty to first degree murder in Great Smoky Mountains National Park
Date: April 19, 2016
Contact: NPS Investigative Services Branch, 888-653-0009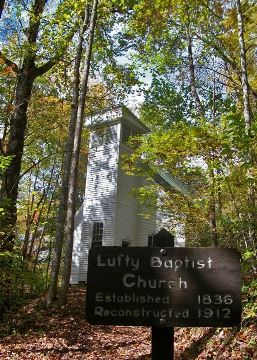 Guilty plea accepted by federal judge for murder in Great Smoky Mountains National Park
Following an investigation by special agents with the NPS Investigative Services Branch (ISB) and the Federal Bureau of Investigation (FBI), a man has pleaded guilty in federal court to first degree murder.
Forrest Hill entered his guilty plea on April 15, admitting to stabbing Tyler Gaddis to death inside a historic church in Great Smoky Mountains National Park in March of 2015. Court documents showed that Gaddis had been stabbed nine times, and that Gaddis and Hill were involved in a "love triangle."
The date for Hill's sentencing has yet to be determined.
Related news release: March 30, 2015
Special Agents investigate a murder in the Smokies
Special agents with ISB and the Charlotte Division of the Federal Bureau of Investigation (FBI) are investigating the murder of a man that took place on March 29, 2015. The 25-year-old man's body was found inside the Smokemont Baptist Church (also known as the Oconaluftee Baptist Church) within the boundaries of Great Smoky Mountains National Park. The historic church is near the Smokemont Campground; it has been reopened to visitors.
Soon after the man's body was discovered, investigators "responded to the scene and gathered evidence, which will be processed to determine the cause, manner and circumstances of the man's death," said FBI spokeswoman Shelley Lynch. The victim has been identified as Tyler Britton Gaddis; his death has been ruled a homicide and the investigation continues.
If you have information about this incident, please call the ISB Tip Line at 888-653-0009. You don't have to tell us who you are, but please tell us what you know.


Who We Are | What We Do | News | Submit a Tip | Contact Us