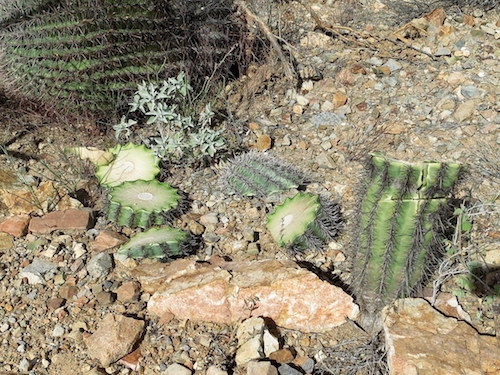 News Release Date: April 13, 2016

Contact: Saguaro National Park, (520) 733-5118
Contact: NPS Investigative Services Branch, 888-653-0009
Reward offered for information about cactus vandals at Saguaro National Park
Saguaro National Park is offering a reward of up to $500 for additional information leading to the conviction of those responsible for vandalism and damage to numerous cacti in the park. The investigation is being aided by ISB Special Agents. 
On the evening of January 22, nine saguaro cacti as well as several prickly pear and cholla cacti along the Gould Mine Trail were cut by "a sword or other large, heavy, and sharp object," said Chief Ranger Ray O'Neil. 

Rangers received a tip reporting a person walking through a nearby neighborhood in that time frame, swinging two swords. The person was described as a young man in his late teens or early 20s. Investigators found blood on the ground next to one of the damaged cacti, indicating that someone involved in the incident was injured, though not seriously. The blood has been collected as evidence in the case. 
"The outpouring of concern from our Tucson community over the damage to the park's cacti has been impressive and is appreciated," said O'Neil. "We have made progress on this incident thanks to information provided by the Tucson community."
If you have information about this incident, please call Saguaro National Park at 520-733-5118. 
You may also report information through the ISB Tip Line - and remember, you don't have to tell us who you are, but please tell us what you know: