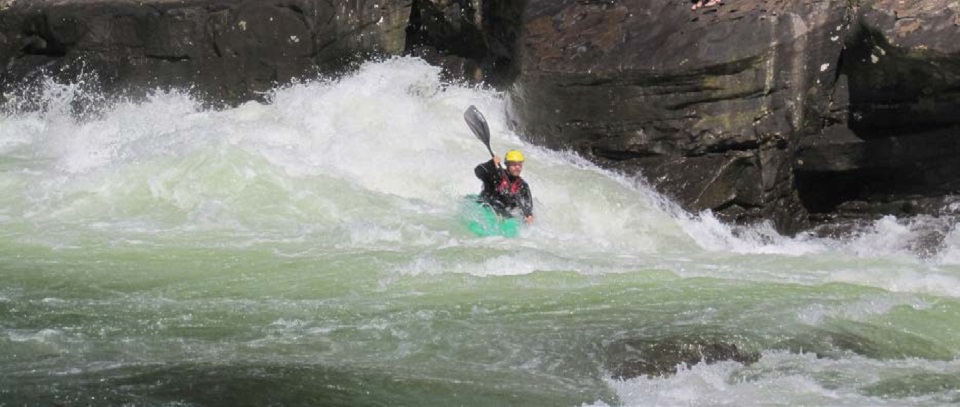 News Release Date: May 1, 2017

Contact: Julena Campbell, Gauley River National Recreation Area, 304-465-6523
GLEN JEAN, W.Va. – Each spring in Appalachia, the rivers run high and fast! But the Gauley River in southern West Virginia won't reach its high season until fall. In September, when excess water is released through Summersville Dam, thousands of whitewater enthusiasts from all over the world flock to the Gauley to experience what is considered by many to be one of the most thrilling whitewater opportunities in the world.
The
Gauley River National Recreation Area
established in 1988, protects 25 miles of the Gauley River and six miles of the Meadow River. Dropping more than 668 feet through rugged, remote terrain, this part of the river features more than 100 rapids with steep gradients, technical runs, an incredible volume of water, and huge waves. Like nearby
New River Gorge National River
and
Bluestone National Scenic River,
the Gauley's deep gorge supports abundant and varied life. You'll find forests of oak, beech, yellow poplar, hemlock, and dogwood. Rare and threatened species such as the Allegheny woodrat, cerulean warbler, eastern hellbender, and finescale saddled darter make their home on the Gauley River. Rare plants include Virginia spiraea, Appalachian blue violet, and balsam squaw-weed.
Read more
The
National Park Getaways series
helps people find new places to connect with nature, history, family, and friends. This month's Getaway featuring Gauley River National Recreation Area is the 269th installment in the series.  
About the National Park Service. More than 20,000 National Park Service employees care for America's 417 national parks and work with communities across the nation to help preserve local history and create close-to-home recreational opportunities. Visit us at
https://www.nps.gov
, on Facebook
www.facebook.com/nationalparkservice
, Twitter
www.twitter.com/natlparkservice
, and YouTube
www.youtube.com/nationalparkservice
.