Off-Trail Caving Tour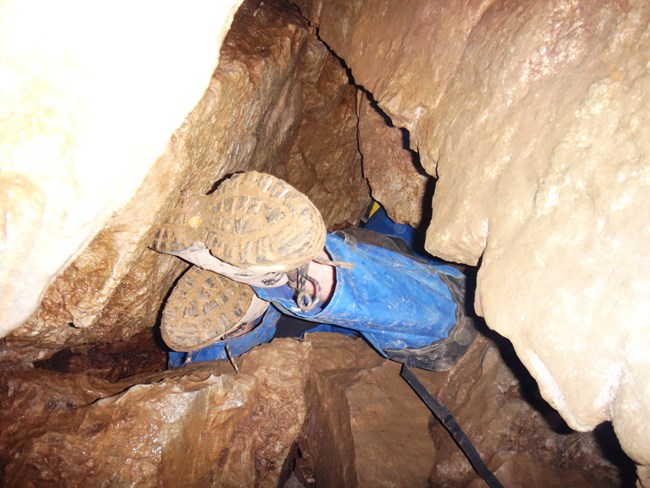 An Introduction to Caving
This is the real thing – caving down into the dark, wild areas off the trail. Trained off-trail cavers will teach you caving techniques and cave etiquette, and bring you face-to-face with the marble depths of Oregon Caves. During this three hour experience, you and up to seven other people will scramble over boulders, belly crawl, and negotiate tight squeezes as small as 11 inches high by 19 inches wide. The minimum age is 15 years old. The off trail caving tour is only offered in the summer. Dates and times are announced in mid-May.

Reservations Required.

Age Limit: 15 years old and older

Physical Considerations: Please be aware, this is a strenuous, intensely physical, and mentally demanding experience. It requires upper body strength and good balance to pull yourself up and creep down steep, rocky areas. You must have the ability to squeeze and crawl through spaces as narrow as 11- by 19-inches. You rely solely on your headlamp for light. This experience is not recommended if have a heart condition, breathing issues, poor balance, difficulty with extreme twisting and bending, trouble crawling, or have back, shoulder, torso, hip, knee, hip, ankle, or foot problems, or have joint pain. It is not recommended if you have claustrophobia or are prone to panic attacks.

What you Must Bring: You must provide your own sturdy, ankle supporting boots with lug soles. You will not be able to join the tour without ankle supporting boots.

We Provide: Helmet, headlamps, gloves, knee-pads, elbow pads, and a souvenir bandana. Gear worn or used in other caves is not permitted.

Protect our Bats: Do not wear or bring clothes, shoes or other items used in a cave, mine, or other bat habitat. Spores carried on personal items spread white-nose syndrome, a deadly disease that kills bats.
Last updated: September 13, 2019