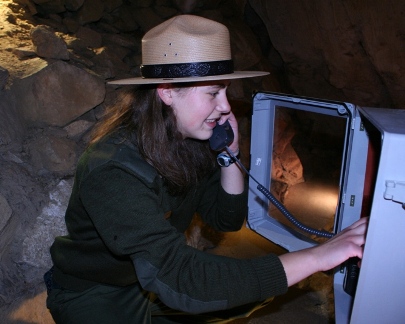 News Release Date:
October 1, 2010
Summer 2010 marked the completion of a major, eighteen-month project to upgrade the telecommunications system in Oregon Caves. The deteriorating, stand-alone intercom system was replaced with a fiber-based communication system. Park staff evaluated a variety of options for this upgrade, including radio and copper-based systems, and worked closely with Mammoth Cave IT Specialist Patrick Price to design the system. The new system enhances staff and visitor safety and the management of in-cave emergencies and incidents with several significant improvements:
• More phones: This upgrade increased the number of phones stations from three to seven – a phone for every tenth of a mile along the tour route.
• Two-way communication: With the old system, calls could only be placed to a single phone in the visitor center. With the new system, cave phones have all the functionality of office phones.
• Programming capabilities: The Voice over Internet Protocol (VoIP) phones in the cave can be dialed simultaneously and programmed to ring a distinct tone to phones on the surface.
• Expandability: The system makes it possible to add phones or other network devices, such as cameras or data loggers for environmental monitoring. Three monitoring stations have already been set up to log temperature, humidity, stream depth, wind speed, and other parameters that can be accessed real-time over the network. The park has also obtained an infrared camera for monitoring roosting bats. Eventually this live data will be available to the interested public through visitor center displays and/or the web.