Date:
March 21, 2011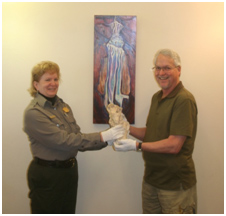 On March 21, 2011, a small but important ceremony took place at Oregon Caves National Monument. Larry Grant of Hillsboro, Oregon, returned a stalagmite to Superintendent Vicki Snitzler.

Larry was given it by a relative of someone who had bought it at a flea market many years ago. He contacted the Caves' resources specialist who determined that the limestone pieces almost certainly came from the cave.
According to Snitzler, "we are most appreciative of those who volunteer to help protect and preserve our natural and cultural heritage. The Park Service manages lands owned by all Americans so as to keep them unimpaired for future generations. However, we cannot fully accomplish our mission without help from concerned citizens such as Larry. Other visitors to the Monument have been helpful by not touching cave formations while touring the cave. Likewise, the white gloves are to prevent staining by skin oils until the formations can be safely returned to the cave. There they can best be preserved and regain the beauty that comes from their surroundings."