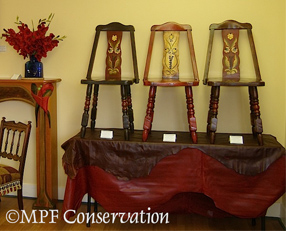 News Release Date:
October 10, 2011
After a careful museum restoration, a portion of the Mason Monterey furniture collection at the Oregon Caves Chateau is returning home. This is no staid museum collection behind glass, however. These beautiful pieces will decorate the Chateau lobby and are there for you to enjoy "hands on."
Next time you visit the Oregon Caves National Monument, take a cave tour, and then be sure to visit the Chateau. You will feel most welcome. Inside you can lounge with friends and family while the past wraps itself comfortably around you. Please sit respectfully though; these are museum pieces after all!
The furniture in the Chateau was designed and built by Fred Mason, who founded the Mason Manufacturing Company of Los Angeles in the late 1920's, and his son George Mason. The style is derived from Spanish and Dutch Colonial, California Mission architecture and furnishings, simple ranch furnishings, and cowboy gear such as lariats and branding irons.
The collection was originally purchased in 1934 through Meier & Frank, a large department store in Portland, to furnish the newly constructed Chateau. Interestingly, the alder used in the collection was from Oregon!
After seventy-six years of basic fixes and repainting, the furniture was in great need of conservation.
The contract for the work went to Oregon-based firm MPF Conservation. The firm specializes in the conservation, preservation, and selective restoration of furniture, wooden objects, textiles, and interior architectural elements for both private and museum clientele.
"Our job," said Katie Powell of MPF Conservation, "was to follow the basic tenants and museum protocol mandated by the National Park Service," and to perform reparation so as to "determine original appearance.
"This entailed the use of authenticate materials, original colors, original decoration, original fibers, and upholstery motifs and forms. We had to determine what was original, and what was applied over nearly a century of makeshift repairs. Then we had to replicate the pieces as closely as possible within the parameters of modern health laws and health codes.
"Head scratching was a daily activity," Ms. Powell said. "It was a challenge, which is an exciting thing for us as conservators. Mind you, each of these 'discoveries' included a letter to the National Park Service saying we finally figured it out. Then another and another, continually changing our minds as our discoveries, research, and thinking evolved.
As we say goodbye to 'our' pieces, we believe good decisions were made with careful forethought by all parties concerned, and the pieces came together beautifully. It is our hope that the careful considerations here will clear the way for easier decisions to be made if the other Monterey furniture is able to be conserved."
To learn more about MPF Conservation and the project, visit:
www.mpfconservation.com