Places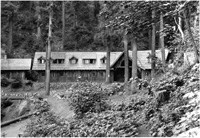 Oregon Caves Historic District: A Cultural Legacy
Before this land officially became a National Monument in 1909, the idea of having a hotel and resort at the cave entrance was taking form.
The first permanent building constructed here was the Chalet in 1924, the building which now houses the Visitor Center, but this is not the Chalet as we see it today. The 3rd floor and archway were added when it was rebuilt in 1942. The upper two floors of the Chalet now serve as a dormitory for seasonal guides.
Following the Chalet, several rustic cabins were built in 1926 just up slope from where one passes through the Chalet archway. The cabins were for visitors, but later in 1935, the cabins served as summer ranger residences. All but the one cabin have since been removed due to problems with plumbing leaking into the cave. The last cabin now serves as the resource management office for the National Monument.

In 1929 plans were announced by Grants Pass builder, Gust Lium to construct the majestic Chateau (lodge).


Last updated: May 18, 2018