Gust Lium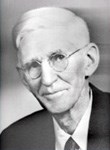 Designer and Contractor of the Chateau
Gust Lium, a builder and architect who was never formally trained, was a prolific local builder. He completed over 50 houses in the Grants Pass area and a number of commercial and institutional structures. He was responsible for many projects for the Forest Service throughout the Siskiyou National Forest and the Six Rivers Forest. As a leader of CCC construction crews he is also remembered for the building of the wooden structures at nearby Patrick's Creek campground.
With the leadership of Lium, work on the Chateau began in September 1931. The use of material from the local area was in keeping with the rustic style of the Lodge. The stone for the fireplace was taken from the nearby hillside, and the lumber was cut and milled locally.
Lium utilized a small work crew for the construction, usually less than 20 men, yet the Lodge was completed by May 1934. This fact, taken in conjunction with the Oregon Caves Company's financial troubles in 1932 and 1933, reveals Lium's management skills and construction ability. Lium was involved from the start to the finish serving both as designer of the Chateau and contractor. The final cost for the construction of the Lodge was $50,000 dollars.
Lium also designed the guest cabins that once sat behind the Chalet. One cabin still stands today and is used as an office by Resource Management.
Last updated: February 28, 2015