Group Camping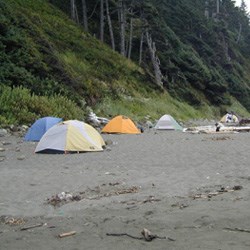 Plan Ahead
Group Size
Traveling in Groups
Leader Responsibilities
Your Group Camp
Campfires
Sanitation/Garbage
The Campsite Check
Careful planning along with exercising care in the wilderness will help preserve the wild character of the Olympic Wilderness for future generations of hikers, campers, backpackers, horse-back riders, wildlife and plants.
We hope you will do your part to take care of this special place.
Please read through the information below and always contact the Wilderness Information Center prior to your trip for information about permits, group site reservations, group size regulations, special group camps and food storage requirements.
Plan ahead and prepare
Check trail conditions prior to your hike.
Contact the Wilderness Information Center in Port Angeles for more information about the area you will be visiting.
Bring proper clothing and equipment, including the Ten Essentials.
Know the area and what to expect, including regulations and potential risks.
To reduce trash, repackage food into reusable containers.
Responsibilities of the Group Leader
Contact the wilderness information center to check for any special regulations or considerations for large groups. Check to see if desired camping areas can accommodate large groups.
Group leader should educate all group members on Leave No Trace Camping methods.
Large groups should register at the Wilderness Information Center during business hours in person. Call (360) 565-3100 with questions.
Larger groups tend to make more noise. Please keep voices and other noises to a minimum. Many hikers visit the wilderness seeking solitude, peace and quiet and to listen to natures sounds. Please be sure your group respects other campers.
Group Size
Oversized Parties can damage the wilderness and impact the experience of other visitors.
Maximum group size is 12 people.
Affiliated groups may not combine to form a group of more than 12 people at any time and must camp and travel at least 1 mile apart.
Traveling in Groups Traveling in large groups can cause significant impacts if care is not taken to prevent such impacts. Your group should learn to Leave No Trace to prevent further regulation of large groups.


Travel on durable surfaces
Hike on existing trails. Walk single file in the middle of the path.
Do not walk on off the trail to avoid mud, puddles or snow. This will kill vegetation and cause the trail to become wider.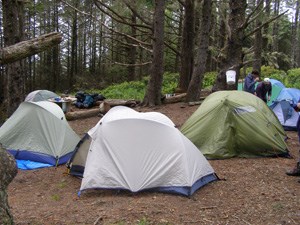 Your Group Camp

Groups of seven or more camping in the
Sol Duc/Seven Lakes Basin, Hoh Lake Trail, Hoh River Valley, Grand Valley, Royal Basin, Flapjack Lakes, Lake Constance and Upper Lena Lake
areas must camp in designated "group sites."
Reservations
are recommended for group sites in these areas.
Sol Duc group sites are located at Deer Lake, Sol Duc Park, and 7-mile Camp (Sol Duc River Trail).
Hoh group sites are located at Mt. Tom Creek, 5-mile Island, Olympus Guard Station, Lewis Meadow, Elk Lake, Glacier Meadows and C.B. Flats (Hoh Lake area).
Grand Valley group site is located at Moose Lake (only 1 group site).
Royal Basin group site is located at Royal Lake (only 1 group site).
Flapjack Lakes (1 group site)
Upper Lena Lake has 1 group site
Lake Constance has 1 group site.
In other high-use areas, concentrate use.
Camp in preexisting campsites or on bare ground.
Do not camp on or trample vegetation.
Minimize impact by concentrating camping activities within the site. Congregate on bare ground and not on vegetation.
Have everyone in your group use the same trails to get water, fire wood and to the cooking area so you aren't creating more trails.
When hiking cross-country, spread out your use. Avoid fragile vegetation such as heather and huckleberry.
Use map and compass to eliminate the need for rock cairns and flagging.
Choose durable ground surfaces when camping.
Before you leave, restore pristine sites to prevent long-term impact.
Minimize the Use and Impact of Fire
Use established fire rings and leave them clean.
Gather only loose, dead and down wood, no larger than an adult's wrist.
Campfires can cause lasting impacts. Carry a stove for cooking and enjoy a candle lantern instead of a fire. Know where fires are restricted.
Remember, Leave No Trace of your stay. The next visitors should not be able to tell your group has ever camped there.
Sanitation/Garbage
Pack it in, pack it out. Pick up and pack out any food waste and garbage.
Protect wildlife and yourself by using bear canisters to secure your food from bears and other wildlife.
Properly dispose of what you can't pack out.
Urinate on rocks or in the trail, away from campsites or water.
Deposit human waste in toilets where available. If not available, dig a cathole 6 to 8 inches deep at least 200 feet from a campsite or water.
Use toilet paper sparingly and pack it out.
To wash yourself or your dishes, carry water 200 feet away from stream or lakes. Use biodegradable soap minimally. Strain and scatter dish water.
Bury fish entrails in catholes 200 feet from a campsites or water.
The Campsite Check

Many wilderness travelers perform "the campsite check" before they leave their campsite. This activity allows the visitor to take a good look and check to see if their actions have had a negative impact on wildlife, plant life or other visitors.
Look for overturned rocks, flattened flowers or plants, bits of garbage or food, or any other sign that someone has camped there.
Always leave the wilderness as you found it, or better.


Last updated: October 21, 2022