North Fork Quinault River Trail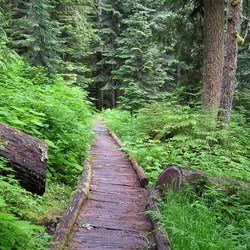 Notices
Description
Trail Conditions
Camping
Special Concerns
Safety
Map
General Location: 25 miles northeast of Lake Quinault along North Fork Quinault River.
Notices:
The North Fork Road may be closed during winter. Visit the Road Conditions page for more information.
The river crossing at 16-Mile can be difficult or impossible to cross during periods of heavy rain or snow melt.
Contact the WIC for information about trailhead shuttles. (360) 565-3100
Description
Ecosystem type: Rain forest river valley
Trail tread types: Well-maintained
General elevation trend: Moderate
River crossings: River ford required at Wild Rose Creek and 16-Mile. These crossings can be hazardous during high water. The Elip Creek footlog often washes out in winter. Check current conditions.
Unique features: Old-growth rain forest
Level of difficulty: Moderate
Distance: 16 miles to Low Divide
Elevation change: 519 feet to 3,602 feet
Best Season: May through September (upper portion of the trail is usually snow covered through late June)
Camping
Permits/Reservations: Obtain permits at the WIC in Port Angeles or at the South Shore Lake Quinault Ranger Station, located next to Lake Quinault Lodge. No reservations necessary.
Food Storage Method: Bear canisters and bear wires. Bear wires are located at Wolf Bar, Elip Creek, and Low Divide. Bear canisters are recommended in areas without wires.
Campsites: Wolf Bar, Elip Creek, Trapper, 16-Mile, and Low Divide
Toilet Facilities: Pit toilets are available at Elip Creek, Trapper, and Low Divide. In other areas, bury waste 6-8" deep and 200 feet from water sources and campsites. Please pack out toilet paper.
Water Source: North Fork Quinault River and tributary streams. Always boil, filter, or chemically treat your drinking water to prevent Giardia.
Stock: Allowed.See Stock Use to check regulations.
Special Concerns
Leave No Trace: Leave No Trace of your stay to protect vegetation and prevent further camping regulations. Camp in established sites or on bare ground.
Campfires: To protect sensitive vegetation, campfires are prohibited above 3,500 feet. Leave no trace of your fire ring.
Respect Wildlife: To protect bears and other wildlife, all food, garbage and scented items must be secured from all wildlife 24 hours a day.
Safety
During fall, winter, and spring months, winter weather can occur even at lower elevations. Be prepared for trees across the trail, snow, hazardous stream crossings, trail and road washouts, and cool, very wet weather.
Trees can also fall across the North Fork Road during wind storms. Don't get trapped!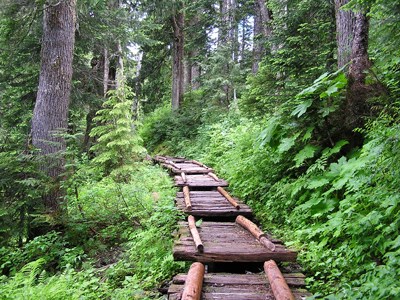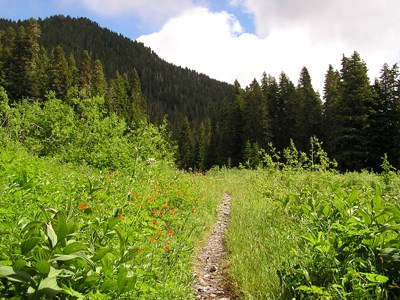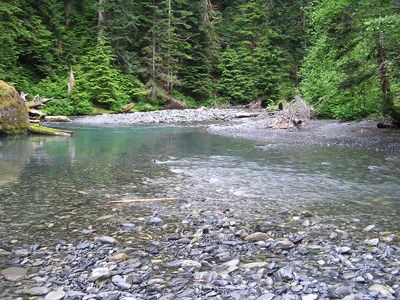 Last updated: December 9, 2017