Exploring the Coast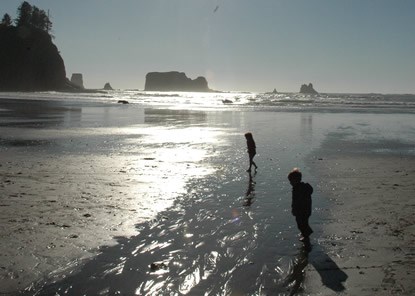 No two miles of Olympic's Pacific coastline are alike. From beaches (that might be sandy, rocky, or boulder-strewn!) to cliffs plunging into the sea, you'll find it somewhere along Olympic's 73 miles of coastline.
Wherever you go along the coast, always carry a tide table and know how to use it!
Mora and Rialto Beach
About an hour's drive west of Port Angeles, Mora has a
campground
, self-guided nature trails and a ranger station that's open intermittently in summer. Another two miles beyond Mora is rocky Rialto Beach on the Pacific Ocean. Picnic tables, restrooms and a trailhead are provided at Rialto Beach.
Visiting Rialto Beach
Kalaloch
Kalaloch is known for its wide sandy beach. The Kalaloch area has two campgrounds, a
concession-operated lodge
, a ranger station with exhibits and information desk (open daily in summer), a picnic area, self-guided nature trails.
Visiting Kalaloch
Lake Ozette Area
Although three miles from the Pacific, the Ozette area is a popular coastal access point. A small
campground
and ranger station (open daily in summer) are located at Lake Ozette. Two three-mile boardwalk trails lead to Sand Point and Cape Alava, both located on the Pacific Coast.
Visiting Ozette
Looking for more of a wilderness experience? Make sure to check out the
Wilderness Trip Planner
for details about hiking, camping, and safety during your wilderness getaway.
Last updated: November 12, 2023