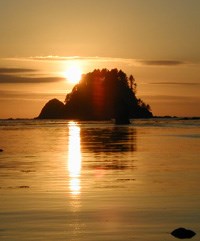 Overview:

Whether it's the tall seastacks that dot the coast, the crystal waters of Lake Ozette, or the grandeur of the old growth forests, the landscape of Ozette is full of opportunities to explore a diverse landscape.
Ozette is located on the northwestern coast of the Olympic Peninsula. This area is reached by Hoko-Ozette Road off Highway 112 (directions.)
Lake Ozette is also a place of rich history. Discoveries in the past century have unearthed the presence of a culture dating back at least 2,000 years, as well as a well-preserved 300-year-old village that had been covered by a mudslide. Over 50,000 artifacts were recovered, many of which now reside at the Makah Cultural and Research Center in Neah Bay.
A general map and more information regarding facilities, camping, picnic areas, and regulations can be found on the park's Ozette brochure.