Help Stop the Spread of Invasive Species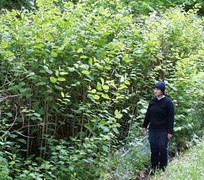 Nonnative Species
Some nonnative species can be harmful to native species (including endangered species), natural ecosystems, or even human health. Nonnatives are also called "exotics" or "alien."
For example, nonnative Himalayan blackberries picked by campers and left behind in the park could sprout and eventually smother native shrubs like huckleberry or salal.
Harmful or aggressive nonnative species, like Himalayan blackberry or Japanese knotweed, are called "invasive."



Invasive Exotic Plants
Invasive exotic plants, also called "noxious weeds," are a serious threat to wild lands (other serious threats include habitat degradation and global warming).
We can slow the spread of weeds with help from visitors like you.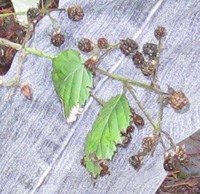 How You Can Help!
During your visit to Olympic National Park keep the following tips in mind to avoid transporting seeds
or plant parts to new locations:
Before traveling to or around Olympic,
clean or brush off your:

Shoes and clothes
Pets and stock
Vehicles and tires
Any other equipment that can carry seeds or plants
Pack out all trash and food
(don't throw that fruit seed into the woods!)
Learn how to identify the worst seven Invasive Plants in Olympic.
Try to Leave No Trace. Not only will you prevent the spread of weeds, but you will also help preserve the health and beauty of Olympic National Park.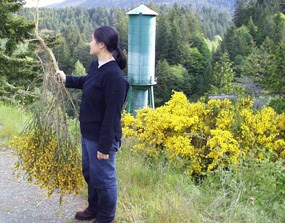 Want to do more?
In the Park:
At home:
When gardening or doing construction projects:

Clean all equipment of plant material and use weed-free gravel or soil.

Avoid compacting soil, tilling, or otherwise disturbing the soil. Replant, mulch, or cover disturbed or bare areas. Maintain closed forest canopy as much as possible.
Report weeds outside the Park to your local County Weed Control Board (See Invasive Plant Resources). The earlier weeds are treated, the better the chance of control.

Last updated: March 31, 2012