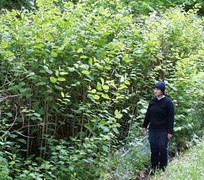 Nonnative Species
Some nonnative species can be harmful to native species (including endangered species), natural ecosystems, or even human health. Nonnatives are also called "exotics" or "alien."
For example, nonnative Himalayan blackberries picked by campers and left behind in the park could sprout and eventually smother native shrubs like huckleberry or salal.
Harmful or aggressive nonnative species, like Himalayan blackberry or Japanese knotweed, are called "invasive."



Invasive Exotic Plants
Invasive exotic plants, also called "noxious weeds," are a serious threat to wild lands (other serious threats include habitat degradation and global warming).
We can slow the spread of weeds with help from visitors like you.