Bogachiel River Trail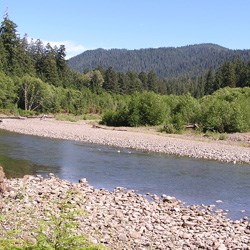 Notices
Description
Trail Conditions
Camping
Special Concerns
Safety
General Location: 10 miles southeast of Forks, WA
Notices:
If you are hiking up into the Sol Duc/High Divide/Seven Lakes Basin/Mink Lake area, all food, garbage, and scented items must be stored in

bear canisters

.

Numerous creek crossings are necessary that can be ankle- to knee-deep depending on water levels.
Description
Ecosystem type: Temperate rainforest
Trail tread types: Low maintenance
General elevation trend: Flat, moderate
River crossings: There are several creek crossings along this trail. These can be difficult or impossible to cross during high water.
Unique features: Temperate rain forest
Level of difficulty: Easy to moderate
Distance: 24.4 miles to the Mink Lake Trail junction
Elevation change: 400 feet to 4,130 feet
Best Season: May through September
Camping
Permits/Reservations: For the most up to date information on how to obtain a Wilderness Permit click here.
Food Storage Method: Bear canisters are recommended in this area. All, food, garbage and scented items must be hung at least 12 feet high and 10 feet from the nearest tree trunk, or stored in bear canisters.
Location and sites: Bogachiel Camp, Flapjack, 15-mile, Hyak and various gravel bar areas along the river.
Toilet Facilities: None. Bury solid waste in a 6-8" deep cathole at least 200 feet from camp areas and water sources.
Water Source: Bogachiel River and various side streams. Always boil, filter, or chemically treat your drinking water to prevent getting Giardia.
Stock: Allowed, but recommended for very experienced stock and handlers. See Stock Use.
Special Concerns
Leave No Trace: Practice Leave No Trace during your stay to protect the resource and vegetation. Camp in established sites or on gravel bars.
Campfires: Campfires are prohibited above 3,500 feet. Where fires are allowed, leave no trace of your fire ring. Burn dead and down wood only.
Respect Wildlife: To protect bears and other wildlife, all food, garbage, and scented items must be secured from all wildlife 24 hours a day
Safety
The Bogachiel River Trail can be difficult to follow along the upper portions above 15-Mile. Map & compass skills recommended.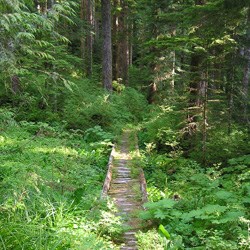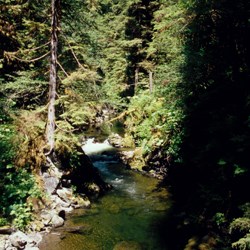 Last updated: October 21, 2022