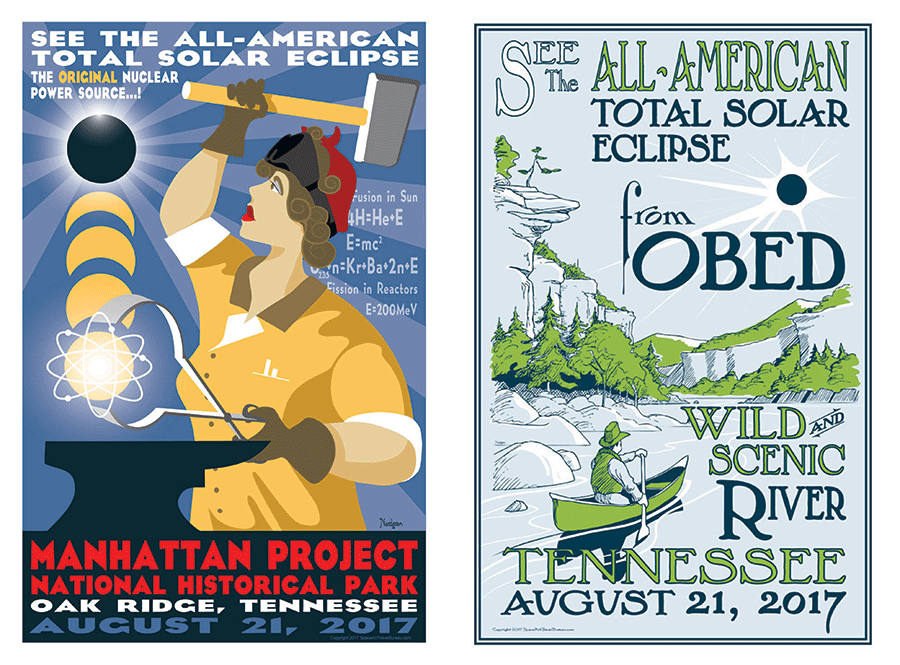 News Release Date:
July 10, 2017
Contact: Rick Ryan, (423) 346-6294
Contact: Christopher Derman
On Monday, August 21, a total solar eclipse will be crossing the entire continental United States from Oregon to South Carolina. It has been dubbed the Great All-American Total Solar Eclipse.

Three local National Park Service sites, six locations: Obed Wild and Scenic River (WSR), Manhattan Project National Historical Park (NHP), and Big South Fork National River and Recreation Area (NRRA) will collectively be offering six different viewing locations, with five of these locations being in the path of totality. 

Viewing locations include:
Obed WSR – Lilly Bluff Overlook, and the park visitor center, in Wartburg, Tennessee
Manhattan Project NHP – park visitor center at the American Museum of Science & Energy, and one other site in Oak Ridge, Tennessee
Big South Fork NRRA – Bandy Creek Visitor Center in Oneida, Tennessee, and the Gateway Visitor Center in Crossville, Tennessee
Each location varies in what it offers in terms of accessibility and service facilities, with some locations near established visitor centers and highways, and other locations in a spectacular outdoor setting within the park. These free events will allow visitors to pick a location that best fits their personal preferences on how they want to experience this once-in-a-lifetime opportunity. The parks plan to have several thousand "eclipse shades" available for visitors to protect their eyes as they view the eclipse. Selected locations will also have solar-filtered viewing equipment available for visitors to get a closer look at the partial phases of the eclipse.

To celebrate this special event, Obed WSR and Manhattan Project NHP commissioned the work of artist and astronomer Dr. Tyler Nordgren to develop two commemorative posters for the event. These posters highlight the beauty of the Obed WSR and the history of the Manhattan Project NHP.

The partial phase of the eclipse will begin at approximately 1:00 p.m. (ET) and end at approximately 4:00 p.m. The total phase of the eclipse will occur at approximately 2:30 p.m.

More information is available by calling (423) 346-6294 or at https://www.nps.gov/obed/planyourvisit/2017-solar-eclipse.htm and https://www.nps.gov/mapr/planyourvisit/solar-eclipse-august-21-2017.htm.