Hozomeen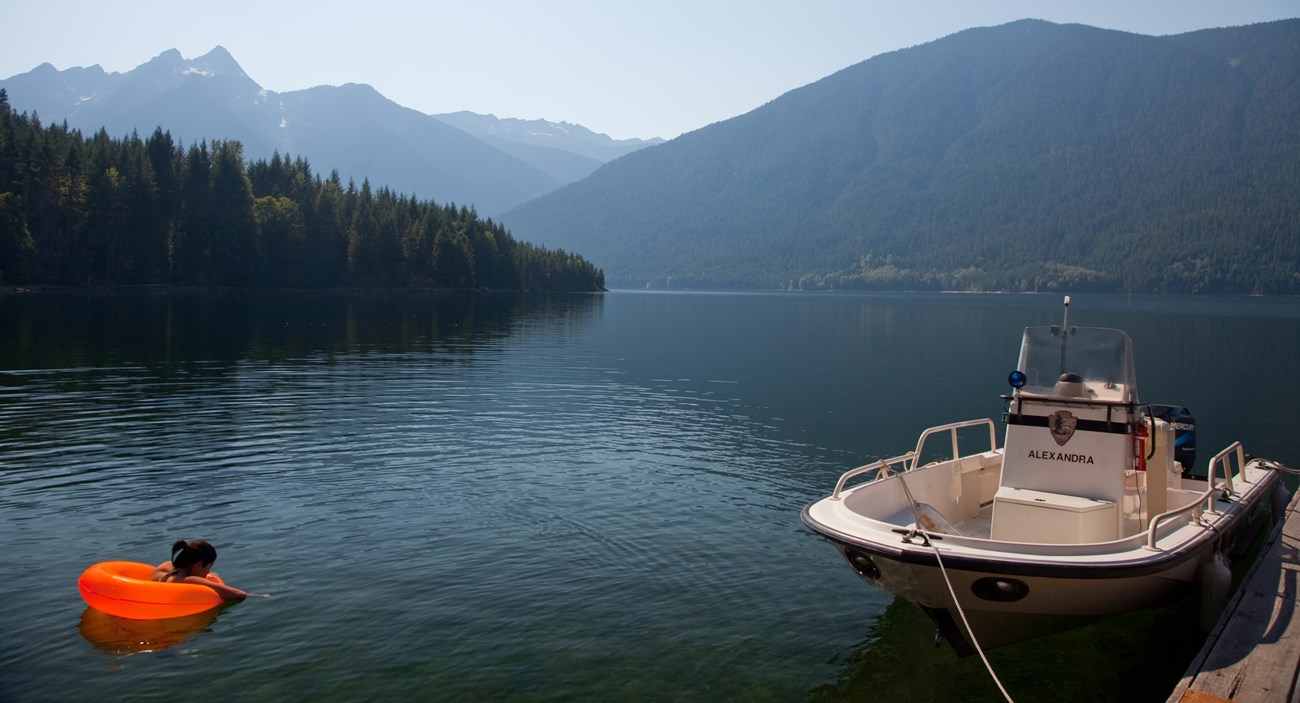 Due to road damage the Silver Skagit Road is closed for the 2023 summer season and Hozomeen is not accessible by car at this time.

The name "Hozomeen" comes from the Salish word meaning "sharp like a knife," referring to both the sharp peaks of the mountains and also chert, a type of rock commonly worked into sharp-edged tools by early Native Americans and First Nation members.

Hozomeen lies at the north end of Ross Lake, near the U.S.-Canada border. Visitors to Hozomeen can find a range of activities, including boating, camping, hiking, fishing, and swimming. The remote location of Hozomeen, combined with the calming waters of Ross Lake and the surrounding rugged peaks of the North Cascades, will fill you with wonder and inspiration.
Things to know before you arrive:
There is no cell phone reception at Hozomeen.
There are no trash services. Trash that you bring in must be taken out with you.
Drive-in campgrounds are first-come, first-served.
Lake levels vary at different times of the year. Ross Lake is usually at full pool (1602.5 ft) from July through Labor Day.
During the months of August and September large populations of mosquito are present. Plan accordingly.
Getting to Hozomeen
By Automobile
The only vehicle access to Hozomeen is via the Silver-Skagit Road, a 39-mile (62.4 km) gravel road leaving Highway 1 just three kilometers west of Hope, British Columbia (exit 168). The Silver Skagit road is graded at times, but washboards and potholes are common. Carry a spare tire as flats occur due to sharp rocks. There is no gas or services available at Hozomeen.
By Boat
Hozomeen has two graded cement ramps, which are generally accessible from mid-June through September. There is no boat launch on the south end of Ross Lake; to reach Hozomeen from the south, canoes, kayaks, and small crafts can be launched at Colonial Creek Campground, boated five miles on Diablo Lake, then portaged around Ross Dam to Ross Lake. Ross Lake Resort offers a portage service. Learn more about boating on Ross Lake.
By Foot
The 31-mile East Bank Trail along Ross Lake connects State Route 20 (at milepost 138) to Hozomeen Campground. This trail takes multiple days to hike, and permits are required for overnight stays in the backcountry.
Camping
Hozomeen Campground has 75 designated sites and facilities include pit toilets, potable water, picnic tables and fire grates. Guests must pack-out all trash.

Campsites located in the Upper Loop are closed until further notice due to hazard trees.

Currently, all camping at Hozomeen Campground requires a backcountry permit.
Hiking
Popular trails in the Hozomeen area include the following:
Trail of the Obelisk / .8 miles (1.3 km) roundtrip
Hozomeen Lake Trail / 3.6 miles (5.5 km) one way
East Bank Trail / variable distance
Last updated: August 3, 2023