Date:
July 19, 2007
Contact:
Kerry Olson, 360-854-7365 ext. 13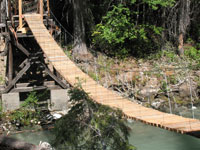 A temporary suspension bridge is now in place across Agnes Creek on the Agnes Creek Trail. This temporary bridge is open to hikers, but is not built to accommodate stock. The bridge is located one-half mile from the Agnes Creek Trailhead in the Lake Chelan National Recreation Area. The Agnes Creek Trail is part of the Pacific Crest Trail which spans from Mexico to Canada.
The Agnes Creek Trail footbridge was
destroyed last winter
by a fallen tree. Funding has been secured though the emergency repair program of the Federal Highways Administration for the permanent replacement of the bridge, which will accommodate stock, is expected to be completed next summer.
For up-to-date trail information and other trip planning assistance, please visit our 
Trail Conditions
page or call (360) 854-7245.