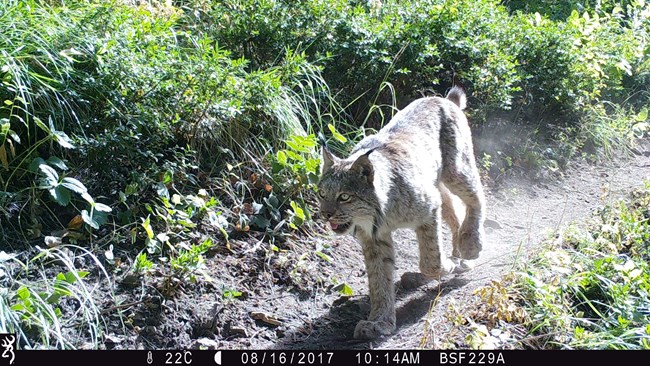 Wildlife Camera Research
The Wildlife Program is conducting carnivore research using motion-activated trail cameras temporarily placed in select areas around the park complex. Many are placed in the backcountry where visitors are not likely to visit, however there are cameras located along park trails. Cameras are the least invasive way to understand how rare species, such as lynx, wolverine, and wolf, utilize park resources.

Do not disturb cameras, as this may cause critical data loss. It is important to document human travel in context with wildlife travel. The park is only collecting information on human presence relative to group size. Photos of people will be discarded after data entry.
2018-2019 Projects
Alpine Carnivores
Marmots appear to have declined in the park by around 69% over the last decade. While climate is a major factor, the impact of alpine carnivores is completely unknown. Predation pressure can increase significantly with reduced snowpack, allowing lower elevation carnivores like coyotes to move up into the alpine where vulnerable marmots slumber. The presence of wolverines, lynx, Cascade red fox, and wolves is also possible in these areas, but the species are so reclusive and shy that their habitat relationships with marmot colonies is poorly understood. The National Park Service is working with Washington State University and the Cascades Carnivore Project on the study in 2018 and 2019. Wildlife cameras for this project might be seen by visitors hiking alpine trails that approach or cross through marmot monitoring areas. Carnivores also tend to stick to these same trails. More information can be found at Cascades Carnivore Project.
Fisher Prey and Predators
The Cascades Fisher Reintroduction Project aims to restore fishers in the Cascades, with releases at North Cascades National Park Service Complex beginning in the winter of 2018-2019. The best release sites are areas where fishers can not only find the appropriate forest habitat they need, but also an abundance of hares, mountain beavers, squirrels, and other small mammals, as well as a low density of bobcats and cougars that tend to prey on fishers. The NPS is working with the University of Montana in order to survey areas of proposed fisher reintroduction to determine optimal release sites. This involves surveying for small mammals, but also involves temporary trail cameras to detect forest carnivores. These cameras will not be on human trails and are unlikely to be encountered by park visitors.
Wolves
Wolves continue to colonize various parts of Washington, with most occurring in the Northeast corner of the state. The NPS uses trail cameras in the fall, winter, and spring to monitor for wolf activity, in concert with recovery efforts by US Fish and Wildlife Service and Washington Department of Fish and Wildlife. Wolves have now been detected in the south half of the National Park, Lake Chelan NRA, and Ross Lake NRA. These temporary wolf cameras are generally in places where visitors will not encounter them, or on trails when they are largely inaccessible during the winter.