Climbing Conditions - Mt. Shuksan
About This Blog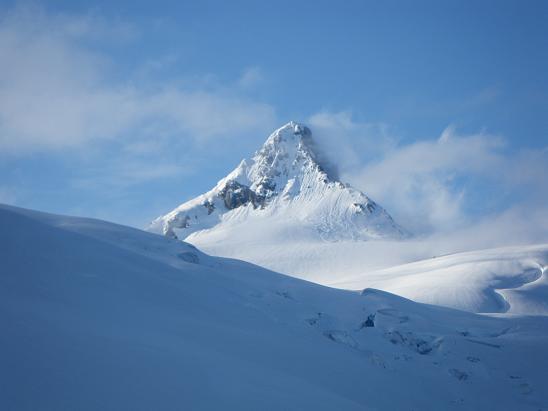 June 27, 2010: The Shuksan summit pyramid viewed from Sulphide Glacier. NPS/Rob Burrows
Climbing conditions for northern and southern approaches to Mount Shuksan can be found below. For conditions on other climbs, return to Planning a Climb.
Condition reports come from climbing and wilderness rangers, the voluntary climbing register, and other climbers. To make a climbing report, please email the Wilderness Information Center in Marblemount. Please include the route, snow level, any hazards encountered (or not), peak(s) attempted, and whether your party successfully summitted.
All of the climbing routes in the park complex are located in wilderness, but some are wilder than others, and there may be limited or outdated information. Use these reports as a baseline, but plan for changing conditions and a true adventure. On many routes, the discovery, physical stress, and route-finding challenges are half the fun.
Info from our recent trip up to the Sulphide on the south side of Shuksan.
Photos and conditions report from our recent patrol of the Fisher Chimneys route.
Photos and information from our August 5th patrol on the south side of Shuksan.
Photos and information from our recent patrol to the Fisher Chimneys area.
Check out photos and conditions from our recent patrol of the Fisher Chimneys.
Check out some route conditions and information about the Sulphide glacier.
Conditions update for the bivy sites, Sulphide Glacier, and summit pyramid from our recent patrol.
Photos and conditions from our Fisher Chimneys patrol.
Info from the last patrol to the Sulphide glacier.
Synopsis of recent climber's report from their ascent of the Fisher Chimneys route on Mt. Shuksan.
Fisher Chimney - Good Condition with hard ice on Winnie's Slide. Water at both bivy areas. Sulphide - Great shape with a few crevasses that are easily passable. Lower bivy site is very melted out and looks much different than last season.
Shannon Ridge is completely dry, one would have to walk a ways to find running water. The "notch" has some running water approximately 200 feet downhill to the NE. People are discouraged from camping here this time of year due to higher impact potential and lack of toilet options. Bear cans are required for camping in this location. Upper and lower bivy toilets on the Sulfide Glacier are in service. Running water is present in both locations. There are significant cracks forming between upper and lower bivy sites that do not normally form until September, these may become hazardous as the season progresses. Route to summit pyramid is otherwise in fine condition, with several cracks beginning to open up. Ravens and Mice are actively getting into climbers food when left unattended
Approach route has been logged out, is clear of snow, and full of blueberries! Bivi sites and running water available at lower bivis, upper bivis is snow camping with some water available. Large crevasses opening up with tricky snow bridges present. Summit pyramid completely free of snow.
Last updated: August 5, 2013