Climbing Conditions - Mt. Shuksan
August 31, 2020
Sulphide Glacier Route
Normal late summer conditions are present on both the Shannon Ridge trail and Sulphide Glacier area. Traversing beyond the "notch", climbers will encounter snow at approximately 5800 feet. Rock campsites are available at the lower bivy sites, along with a composter toilet, which is fully melted out and available. The mixture in the lower composting toilet is getting wet, please try to pee on rocks and not in the composter. At the upper bivy site, climbers will find one dirt campsite and flat areas on snow to camp. The upper composter is melted out and available for use. When using the composting toilet, do not place blue bags or trash in the composting toilet. Beyond the camping area, the climbing route up the Sulphide Glacier is in good condition, with minimal crevasses showing and climbing parties descending the route reported good conditions. Standard glacier travel procedures are recommended if traveling above the camping area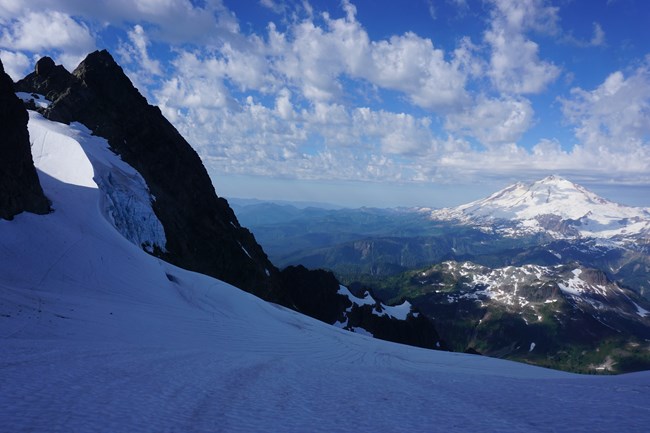 August 18, 2020
Fisher Chimney's Route
The Fisher Chimneys Route is in prime condition, there is still a little bit of water at the lower bivy sites at ~6000' (just below the start of the Chimneys), but it will be gone soon. The Chimneys themselves are dry. The Bivy sites below Winnie's Slide and at the White Salmon/Upper Curtis Col have melted out, though there is no easy access to water from the former so expect to melt snow. There are no composting toilets ath the bivy sites along the Fisher Chimeny's route, please bring blue bags and pack out human waste!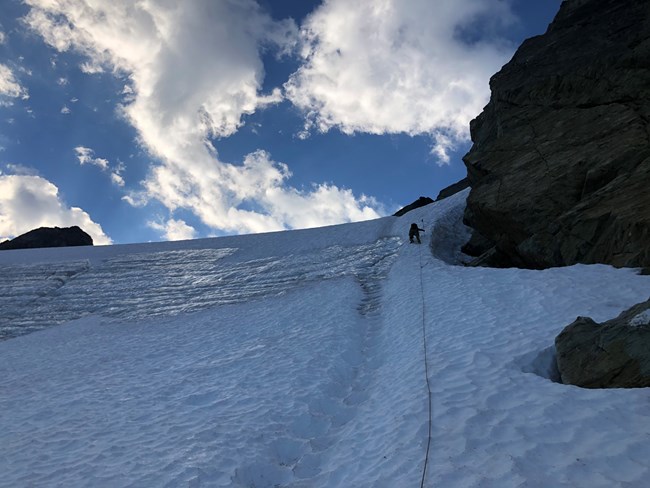 There is just enough ice on Winnie's Slide and while gaining the Upper Curtis to make things interesting, but as the season progresses these areas will become a significant challenge to many parties without ice climbing experience. The Upper Curtis Glacier still presents only moderate navigation challenges, but is starting to open up. Hell's Highway is still in good shape, but the crevasse that forms late-season in the middle of it will be open soon. The upper portion of the Sulphide Glacier is in good shape with minor glacier navigation required and the Summit Gully is almost completely clear of snow, with only one small patch remaining lower down. Remember to check all rappel anchors and that the route the boot-pack follows may no longer be viable.
The Sulphide Glacier Route looks to be still in good shape as well, though there are some crevasses starting to emerge in the usual locations up high.
Remember that wilderness camping permits are required for any overnight use in North Cascades National Park. This includes the majority of bivy and camping areas for all routes on Mt. Shuksan. Contact noca_wilderness@nps.gov for more information.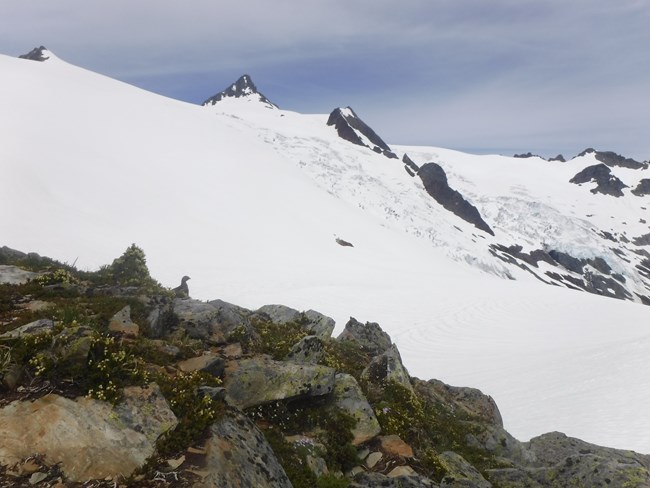 July 20, 2020
Sulphide Glacier Route
Summer weather has arrived to the North Cascades, but spring snow conditions persist in most alpine areas. The Shannon Ridge Trail first encounters snow at around 4200 feet and the snow cover becomes persistant by the time it reaches the ridge at around 4400 feet. Two-three tent platforms have melted out at both the upper and lower bivy sites, but neither of the toilets have emerged from the snow. PLEASE bring blue bags and pack out solid human waste!
The Sulphide Glacier itself currently presents few crevasse hazards or navigational challenges. The Summit Pyramid Gully is about half melted out, so if you plan on ascending the gully beware of rotten, hollow snow and potential moat issues. Remember that rappel anchors and webbing may have degraded over the winter and be sure to double check all anchors in the gully before commiting!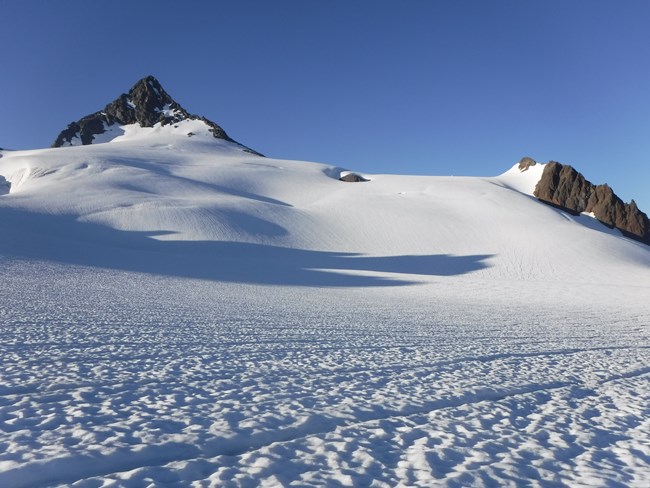 Also remember that conditions can change rapidly during these warm summer days. Reassess the route of any track you're following, and don't assume the solid snow bridge you crossed in the morning is still able to support you when you're on the way down!
July 3, 2020
Sulphide Glacier Route
Mt. Shuksan is still maintaining a low snowline, which begins close to 4600ft. The trail is difficult to follow as you ascend higher onto Shannon Ridge proper. Be aware that the Noth Cascades National Park boundary sign is still buried under snow. Due to the recent inclement weather, many parties have elected to camp at the "notch", which is the last saddle south of the toe of the Sulphide Glacier. The traditional lower (~6800') and upper bivy sites are still under snow. While previous parties have dug out a tent platforms, it is still recommended that parties come prepared with snow shovels if they plan to camp in these areas. Neither of the bivy sites' toliets have emerged from the snow so be sure to be prepared with blue bags and pack all solid human waste from the alpine. Navigation on the Sulphide Glacier is straighforward.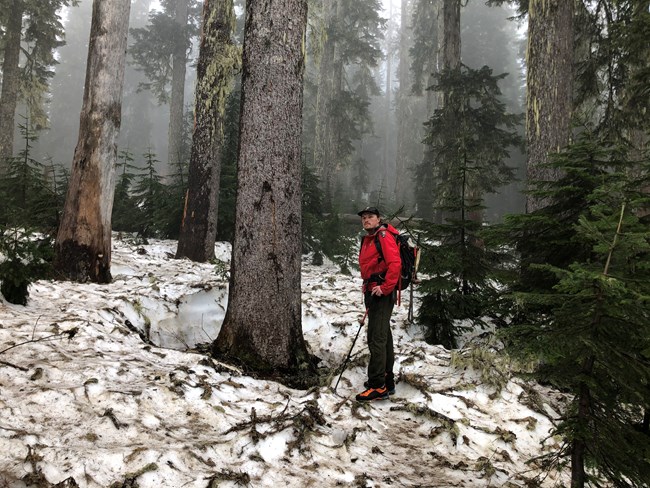 June 13, 2020
Sulphide Glacier Route, Mt. Shuksan
Road to the Shannon Ridge Trailhead is in good condition and vehicles can drive to the trailhead without difficulty. Trail is snow free until 3,700' and is difficult to follow as you climb higher onto Shannon Ridge. Climbers should be prepared to navigate through forested snow-covered slopes to reach the top of Shannon Ridge as the normal trail is not visible. There is approximately 4 to 5 feet of snow on Shannon Ridge. Climbers should carry and plan on using Blue Bags in this area. We did not travel beyond the "notch" due to poor weather conditions, but the route beyond the "notch" is snow covered to the Sulphide Glacier. The composting toilets on the Sulphide Glacier are likely snow covered, so parties traveling to this area should plan on using blue bags. Overnight permits are required for parties intending to camp on the Sulphide Glacier.
September 8, 2019
Sulphide Glacier Route Mt. Shuksan
Shannon Ridge trail is in standard condition (mostly clear of downed logs, with roots and steep sections). Blueberries on Shannon Ridge are ripe! The standard approach is snow free until getting on the Sulphide Glacier. Above the lower Sulphide Glacier toilet / bivy area the Sulphide has sections of dry glacier. Strongly recommend roping up with standard glacier travel set up if traveling above the lower Sulphide Glacier bivy area. There are a number of snow camping options at the upper toilet / bivy area. Please remember to use the composting toilets and carry blue bags! Never know when you're going to need to go. We found a number of TP blooms on the glacier. Water sources available near the beginning of the approach and just below the lower Sulphide bivy area.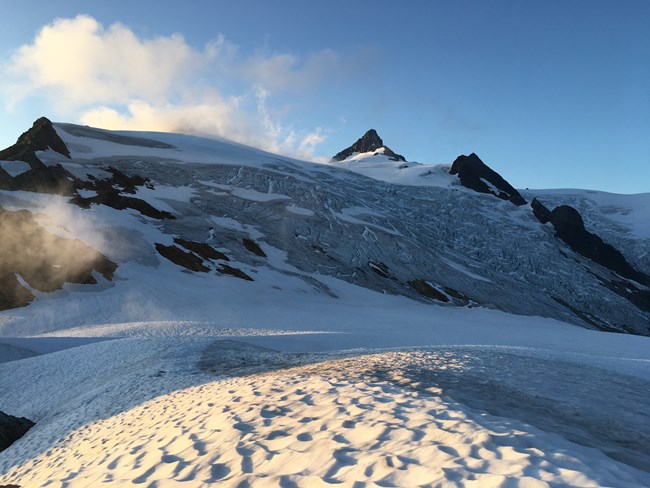 August 19, 2019
Shuksan via Sulphide Glacier
Trail to Shannon Ridge and notch in good shape. Crevasses are beginning to appear between the lower and upper bivy sites on the Sulphide Glacier, these crevasses are easily navigated at this site, but beware! Plenty of water sources on the approach to the lower bivy site and at both the lower and upper bivy sites. If not camping at either the lower or upper bivy sites, please use blue bags. Some trash was noted in the upper bivy site composter, please do not place trash, wet wipes, or other objects in the composter. Beware, there are mice living in the upper composter, this is probably due to food.
Also, an unattended climbing rope was found adjacent to the upper bivy site. Please do not abandon or "stash" equipment at the composters. This climbing rope was carried out by a climbing ranger and placed in the Park's lost and found cache. From the upper bivy site, climbers will encounter bare ice and small crevasses on their ascent of the Sulphide Glacier to the summit pyramid. Climbers descending from the summit pyramid reported conditions were good.
August 16, 2019
Fisher Chimney's Route
The Chimneys up to the White Salmon are clear of snow and running water, some ice is encountered at Winnie's Slide and while gaining the Upper Curtis Glacier from the high bivy sites. Caution should be taken when selecting a route up and down Hell's Highway as some large crevasses are opening up in the run-out of the main boot-pack (consider a route to climbers right for less exposure). The White Salmon, Upper Curtis and Sulphide Glaciers are in good shape along the route but some bridges are thinning, especially on the Upper Curtis so make sure to assess any bridges BEFORE crossing and remember that just because the last party crossed safely that does not mean it will hold for you! Mt. Shuksan's summit pyramid gully is completely free of snow, be especially aware of party-triggered rockfall in this area! Running water can be found at the high bivy sites and at the base of the Chimneys. Active rodent populations can be found at all the bivy sites so Animal Resistant Food Storage Containers are highly recommended.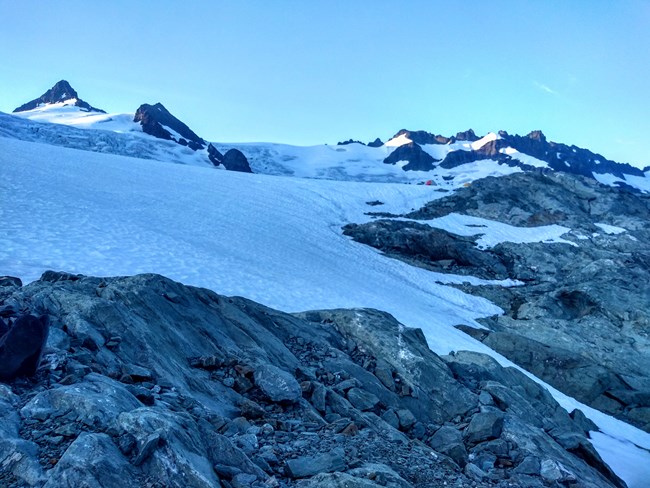 August 4, 2019
Mt. Shuksan via Sulphide Glacier route
Trail to Shannon Ridge and notch in good shape. One notable water source 1/4 mile from trailhead. After this, no water sources until after the notch. One small snow patch just after notch prior to Sulphide Glacier. Lower bivy sites and composter melted out. There is a water source in the rocks prior to the main lower bivy area or melt snow. Upper bivy site composter melted out. No water sources in upper bivy. Please camp on the snow in the upper bivy area rather than small vegetated area that is beginning to see impact.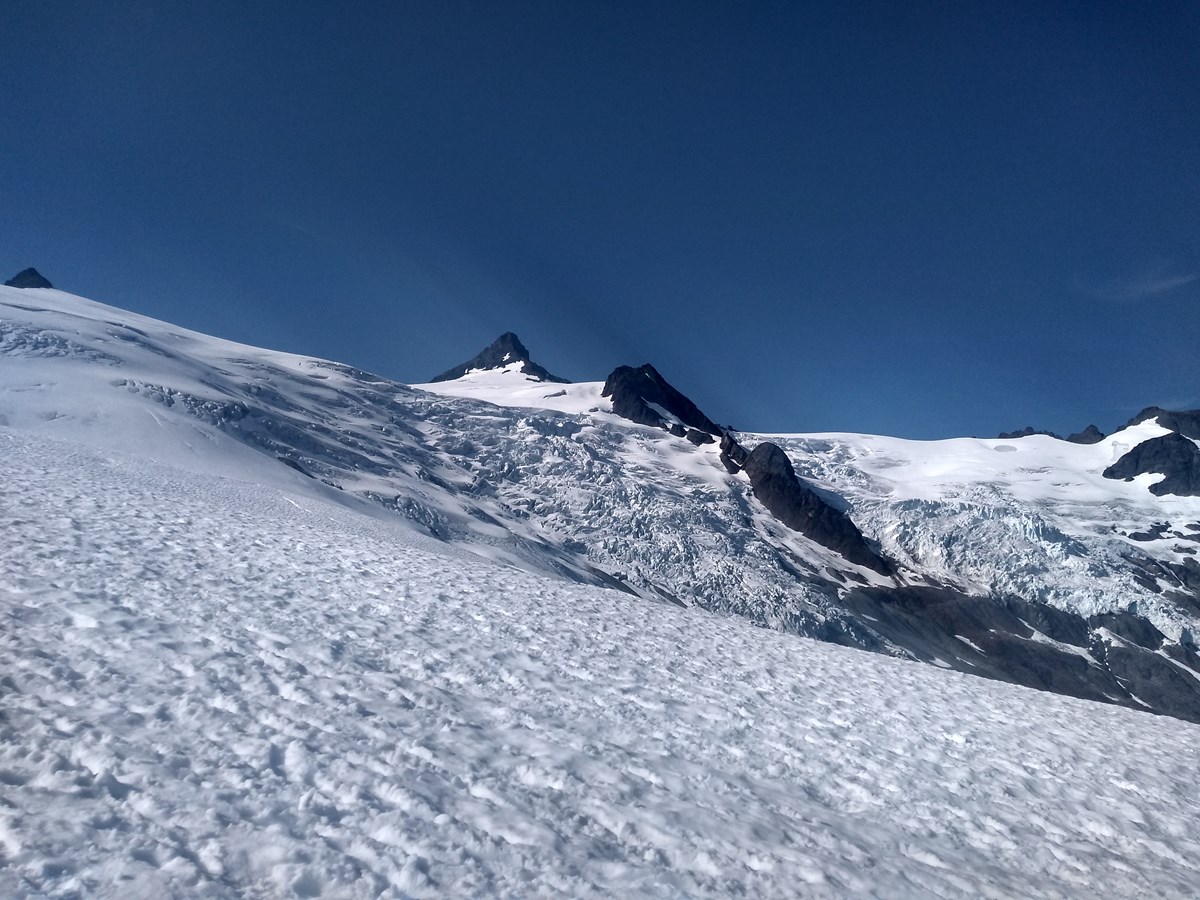 Many parties are climbing the Sulphide Route without issue. The gully is melted out except for a small snow patch down low. Please bring and use blue bags when not near a toilet.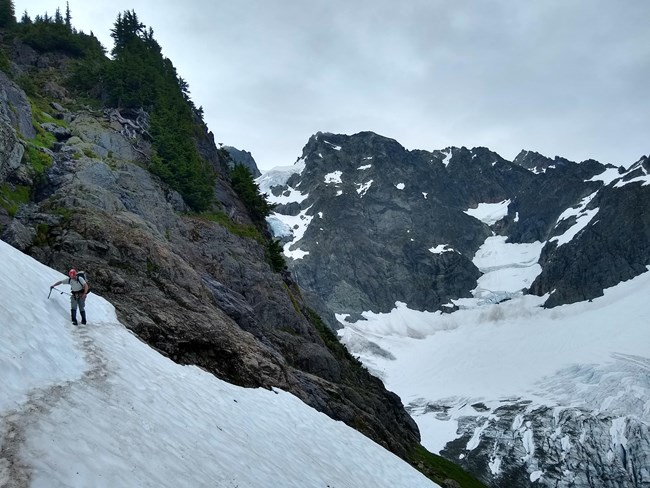 July 15, 2019
Mount Shuksan / Fisher Chimneys Route
Trail from Lake Ann TH to Lake Ann is snow free except a small snowpatch just before the lake. There are a couple down trees on the trail in the forest. Bivy sites just below the Chimneys proper are snow free. Habituated mice present in camp. Please use proper food storage. The Fisher Chimneys themselves are mostly snow free. There is one approximately 200' long snow patch left in the Chimneys. However, climbers can bypass it on the left or right, climbing 4 th class rock. Bivy sites just below Winnies Slide are snow free. Bivy sites just below the Upper Curtis Glacier are snow free. There is a water source of water coming out of the Upper Curtis Glacier just above the bivy sites that are just below the Upper Curtis Glacier. As of 7/14/19 it is possible to climb snow to gain the Upper Curtis Glacier. Remember to bring and use blue bags for human waste and TP.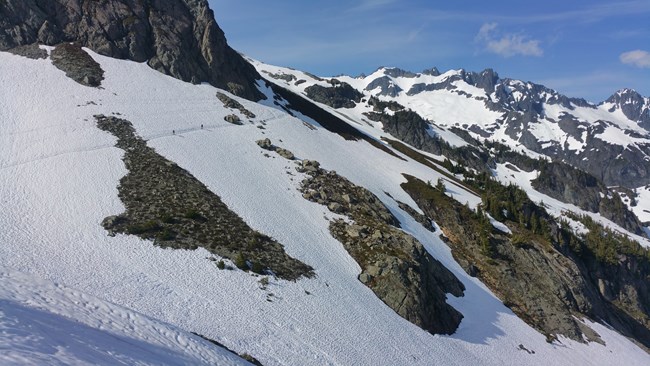 June 1, 2019
Approach via Shannon Ridge trail: good snow coverage above 5000 ft still. Below 4500 to 4000 there is treacherous discontinuous snow with a stream running down the trail making a muddy mess. Straightforward glacier travel and sounds like a mix of rock and snow on the summit pyramid.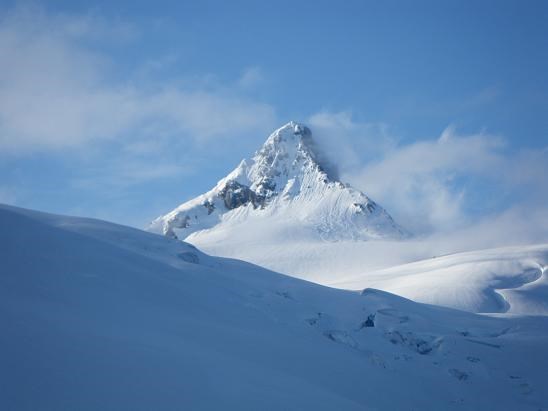 From June 1 to November 15, Interagency Grizzly Bear Commitee approved food canisters are required for camping below the vegetation line in
Boston Basin
,
El Dorado
, and
Sulphide Glacier
cross-country zones.
For old climbing conditions blog posts, check out the links below
Last updated: September 6, 2020