Climbing Conditions - Mt. Shuksan
September 8, 2019
Sulphide Glacier Route Mt. Shuksan
Shannon Ridge trail is in standard condition (mostly clear of downed logs, with roots and steep sections). Blueberries on Shannon Ridge are ripe! The standard approach is snow free until getting on the Sulphide Glacier. Above the lower Sulphide Glacier toilet / bivy area the Sulphide has sections of dry glacier. Strongly recommend roping up with standard glacier travel set up if traveling above the lower Sulphide Glacier bivy area. There are a number of snow camping options at the upper toilet / bivy area. Please remember to use the composting toilets and carry blue bags! Never know when you're going to need to go. We found a number of TP blooms on the glacier. Water sources available near the beginning of the approach and just below the lower Sulphide bivy area.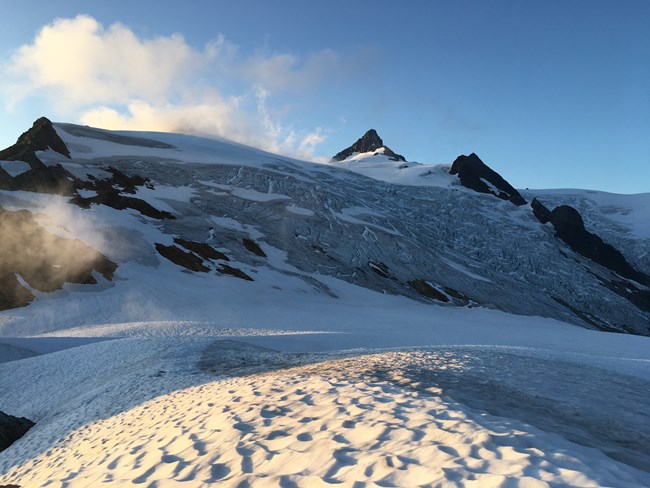 August 19, 2019
Shuksan via Sulphide Glacier
Trail to Shannon Ridge and notch in good shape. Crevasses are beginning to appear between the lower and upper bivy sites on the Sulphide Glacier, these crevasses are easily navigated at this site, but beware! Plenty of water sources on the approach to the lower bivy site and at both the lower and upper bivy sites. If not camping at either the lower or upper bivy sites, please use blue bags. Some trash was noted in the upper bivy site composter, please do not place trash, wet wipes, or other objects in the composter. Beware, there are mice living in the upper composter, this is probably due to food.
Also, an unattended climbing rope was found adjacent to the upper bivy site. Please do not abandon or "stash" equipment at the composters. This climbing rope was carried out by a climbing ranger and placed in the Park's lost and found cache. From the upper bivy site, climbers will encounter bare ice and small crevasses on their ascent of the Sulphide Glacier to the summit pyramid. Climbers descending from the summit pyramid reported conditions were good.
August 16, 2019
Fisher Chimney's Route
The Chimneys up to the White Salmon are clear of snow and running water, some ice is encountered at Winnie's Slide and while gaining the Upper Curtis Glacier from the high bivy sites. Caution should be taken when selecting a route up and down Hell's Highway as some large crevasses are opening up in the run-out of the main boot-pack (consider a route to climbers right for less exposure). The White Salmon, Upper Curtis and Sulfide Glaciers are in good shape along the route but some bridges are thinning, especially on the Upper Curtis so make sure to assess any bridges BEFORE crossing and remember that just because the last party crossed safely that does not mean it will hold for you! Mt. Shuksan's summit pyramid gully is completely free of snow, be especially aware of party-triggered rockfall in this area! Running water can be found at the high bivy sites and at the base of the Chimneys. Active rodent populations can be found at all the bivy sites so Animal Resistant Food Storage Containers are highly recommended.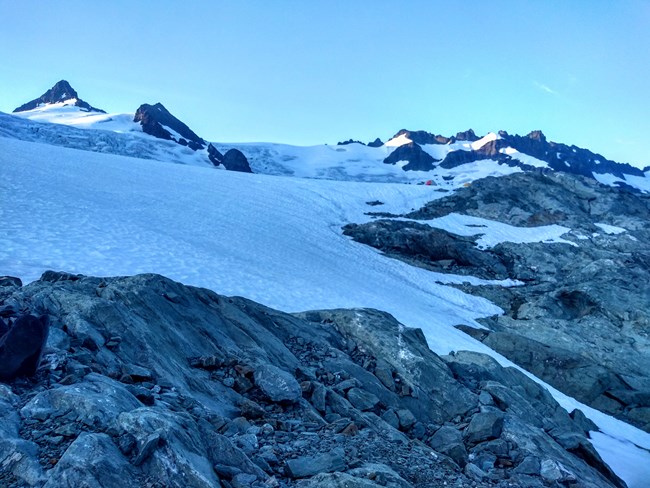 August 4, 2019
Mt. Shuksan via Sulphide Glacier route
Trail to Shannon Ridge and notch in good shape. One notable water source 1/4 mile from trailhead. After this, no water sources until after the notch. One small snow patch just after notch prior to Sulphide Glacier. Lower bivy sites and composter melted out. There is a water source in the rocks prior to the main lower bivy area or melt snow. Upper bivy site composter melted out. No water sources in upper bivy. Please camp on the snow in the upper bivy area rather than small vegetated area that is beginning to see impact.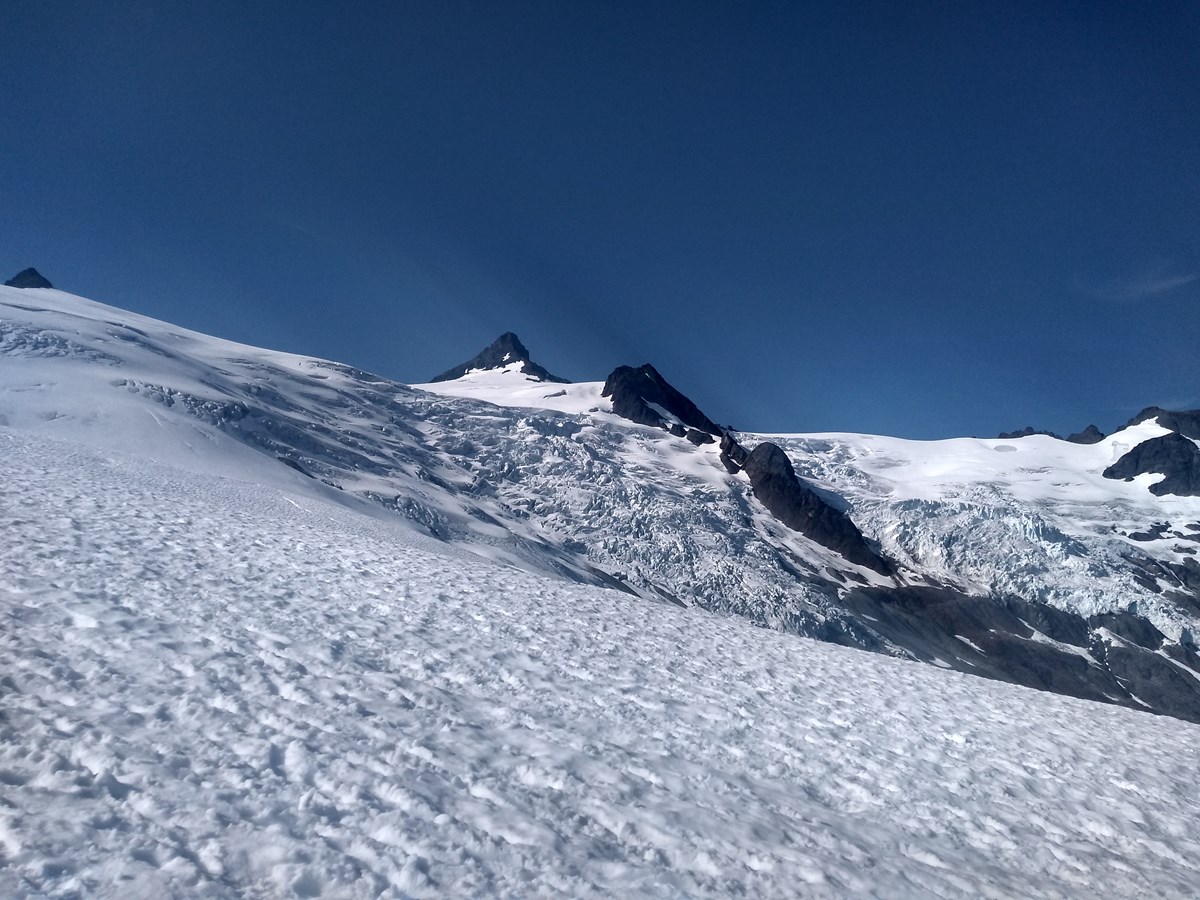 Many parties are climbing the Sulphide Route without issue. The gully is melted out except for a small snow patch down low. Please bring and use blue bags when not near a toilet.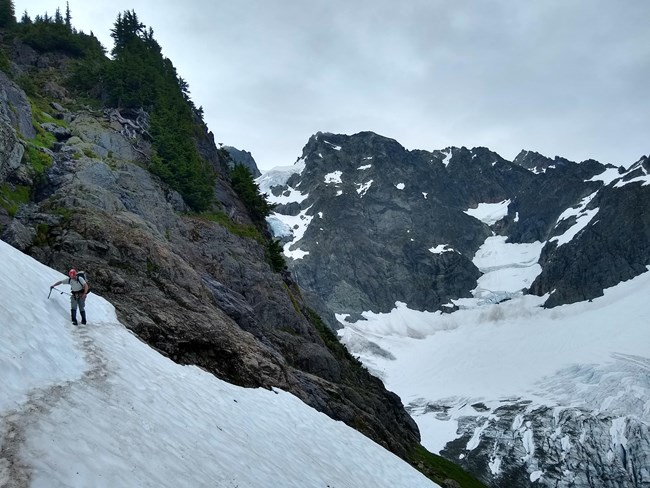 July 15, 2019
Mount Shuksan / Fisher Chimneys Route
Trail from Lake Ann TH to Lake Ann is snow free except a small snowpatch just before the lake. There are a couple down trees on the trail in the forest. Bivy sites just below the Chimneys proper are snow free. Habituated mice present in camp. Please use proper food storage. The Fisher Chimneys themselves are mostly snow free. There is one approximately 200' long snow patch left in the Chimneys. However, climbers can bypass it on the left or right, climbing 4 th class rock. Bivy sites just below Winnies Slide are snow free. Bivy sites just below the Upper Curtis Glacier are snow free. There is a water source of water coming out of the Upper Curtis Glacier just above the bivy sites that are just below the Upper Curtis Glacier. As of 7/14/19 it is possible to climb snow to gain the Upper Curtis Glacier. Remember to bring and use blue bags for human waste and TP.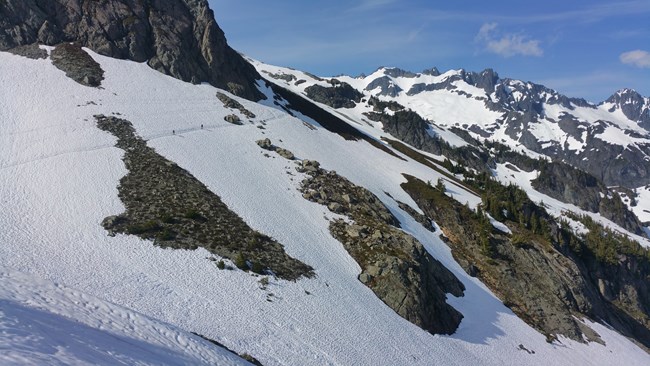 June 1, 2019
Approach via Shannon Ridge trail: good snow coverage above 5000 ft still. Below 4500 to 4000 there is treacherous discontinuous snow with a stream running down the trail making a muddy mess. Straightforward glacier travel and sounds like a mix of rock and snow on the summit pyramid.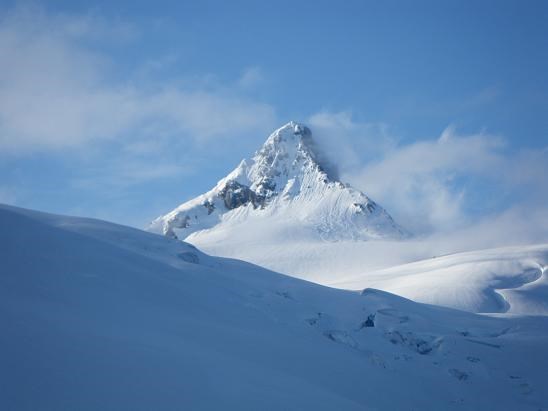 From June 1 to November 15, Interagency Grizzly Bear Commitee approved food canisters are required for camping below the vegetation line in
Boston Basin
,
El Dorado
, and
Sulphide Glacier
cross-country zones.
For old climbing conditions blog posts, check out the links below
Last updated: September 14, 2019