Pets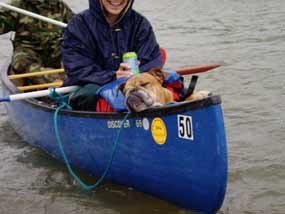 Pets (dogs) are allowed on the river. We advise that they not be leashed while within the boat in case you capsize. Dog PFDs (recommended) are available for purchase at various outdoor retail stores (none locally) or online.
Pets must be leashed at all times within Smith Falls State Park, at the Brewer Bridge Landing and on the Fort Niobrara National Wildlife Refuge. Dogs are allowed on the nature trails at Smith Falls and at Fort Niobrara. Please clean up after your pet. Pets are also allowed within the Fort Niobrara Wilderness, but must be leashed at all times to protect bison, elk, deer, and refuge visitors.
Check with local river outfitters for their policy regarding pets in their private campgrounds.
Yes, you may bring your dog to some National Parks! You might even encounter National Park Service BARK Rangers. These are volunteers and their dogs enrolled in a program called BARK Ranger. This program promotes safe and fun visits that show your responsibilites with your pet. In parks that allow pet dogs, we ask that you follow the rules of that park. Rules include bag your pet's poop; always use a leash; respect wildlife; and know where you can go. These volunteers enjoy working with their dog and working while sharing information about places they love: national parks.

National parks are exciting places for pets to visit with their family while on vacation. Sometimes these new places can be so exciting as to be overstimulating. Learn the B.A.R.K. principles so you and your pet can have a safe and fun visit anytime you go to a national park. This program is part of the Healthy People Healthy Parks Initiative. B.A.R.K. stands for:
Bag your pet's waste
Always leash your pet
Respect wildlife
Know where you can go


Last updated: July 16, 2021