Climbing at New River Gorge

Within New River Gorge National Park and Preserve are over 1,400 established rock climbs. "The New" has become one of the most popular climbing areas in the country. The cliffs at New River Gorge are made up of a very hard sandstone, and range from 30 to 120 feet in height. The rock is very featured, and an abundance of crack and face routes are available. Most of the routes in the gorge favor the advanced and expert climber. The majority of routes are 5.9 and harder, and most sport routes fall in the 5.10 - 5.12 range. A guidebook is an essential tool for locating climbs, and local climbing shops can offer information and specific recommendations.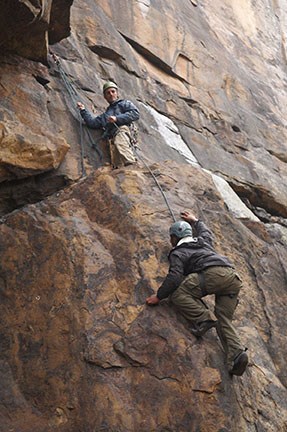 Helpful Information for Climbers
Climbing Season
While climbing can take place any time of year, the best months are usually late April to mid-June, and mid-September to late October.
Food and Water
Water is available at Canyon Rim Visitor Center. There are numerous markets and eating establishments in nearby towns.establishments in nearby towns.
Showers
Showers can be purchased at many of the private campgrounds in the area. Please do not bathe in the restrooms at park visitor centers.
Camping
There are many private campgrounds located within easy driving distance from the climbing areas. Primitive camping is allowed on park property. Camping is prohibited within 100 feet of parking areas, water sources, historic sites, or the top rim of the cliffs. See the camping page for more information.
Private Property
There are many areas of private property within the New River Gorge, including some within the park boundary. Do not trespass on private property.
Parking and Security
Park in designated parking locations -- do not block roads or driveways. Always change clothes out of view. For security reasons, do not leave vehicles unattended overnight at parking areas or trailheads. Hide or remove all valuables while climbing, and lock vehicles.
Climbing Regulations
Over one million people visit New River Gorge each year, thousands of whom are climbers. With this large number of visitors, park issues develop that can only be solved through everyone's cooperation.
Briefly, the National Park Service mission is to protect park resources for future generations, while providing opportunities to enjoy these resources at present. This task is obviously a difficult one, balancing resource protection and visitor use. Park managers are concerned about the impacts of visitors and climbers in the areas of soil erosion and compaction, vegetation damage, human waste disposal, cultural resources, and overcrowding. Please do what you can, as a climber, to limit your impact on New River Gorge and preserve it for future generations.
There are many areas of private property within the New River Gorge. Always acknowledge the landowners' rights. Respect all gate, fences, and no trespassing signs. Do not trespass on private land!
Guidelines and Regulations
Leave historical and natural objects undisturbed for the next visitor.
The use of motorized drills is by permit only.
Do not trespass on private property.
Park only in designated parking areas.
Use existing trails whenever possible.
Pets must be on a leash.
Pack it in, pack it out.
Within a distance of one-quarter of a mile from a restroom or pit toilet facility, human body waste must be appropriately disposed of in such facilities. In non-developed areas more than a quarter of a mile from restroom facilities, human body waste must either be containerized and carried out or it must be buried at a depth of 6 inches in organic soil and at a location not frequented by the public. Human waste may not be buried within 200 feet or in sight of any trail, road, parking lot, developed area, campsite, cliff or rock formation, climbing route or climbing area, water source or the high water mark of any stream, whether intermittent or not.
Safety First
Climbing has inherent risks and hazards, and is a potentially dangerous activity. A variety of skills and techniques are required to ensure a safe climbing experience. Please seek qualified instruction before venturing onto the cliffs. Many of the climbing locations are located miles from roads, and rescue is difficult. Please, climb smart! In case of emergency, call 911.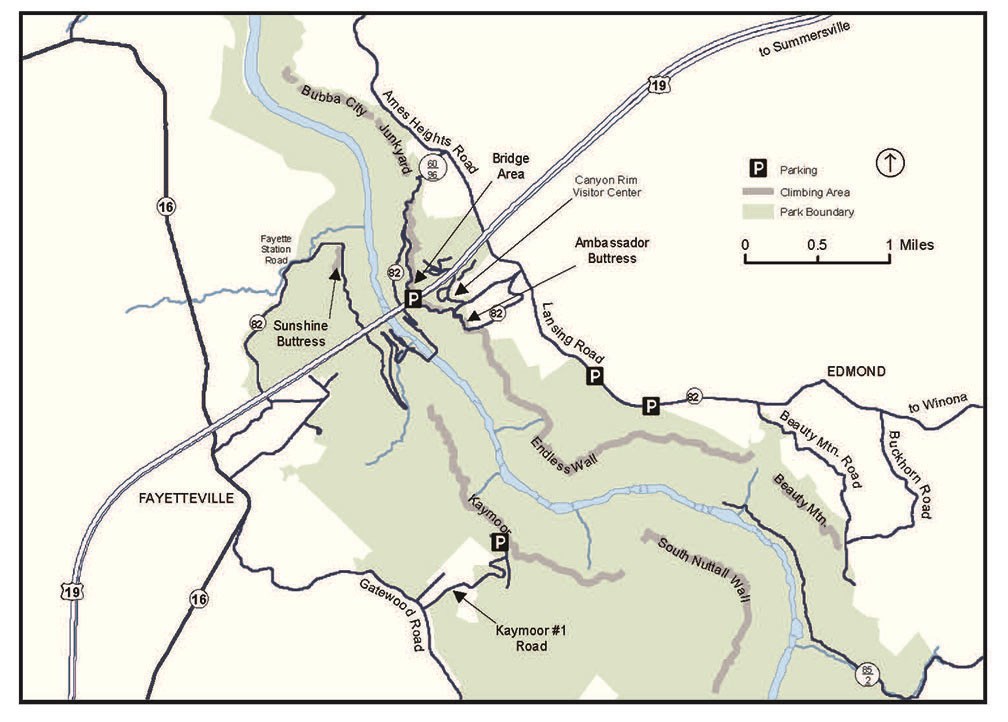 Last updated: January 31, 2023