Rock Climbing Safety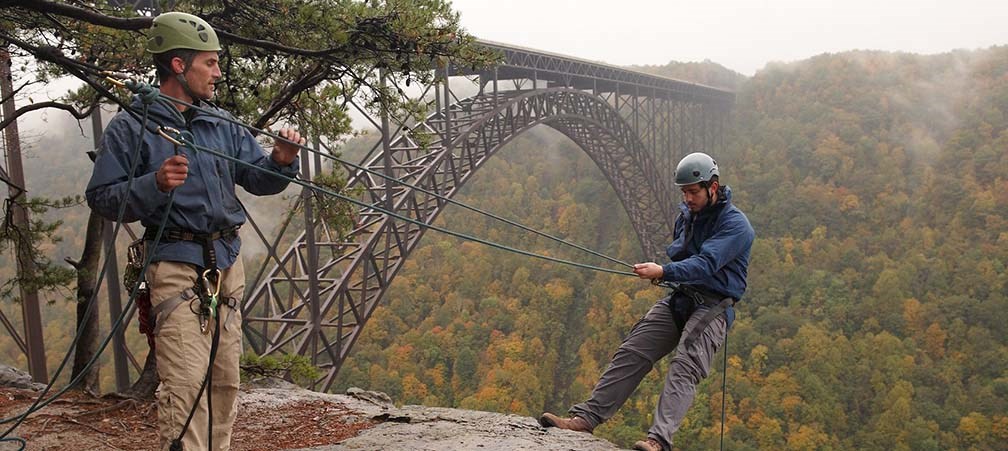 Rock climbing in New River Gorge can be fun and challenging. Most of the routes in the gorge favor the advanced and expert climber. It is important to have the proper experience and know how to be safe.
Safety Tips:
Make sure all of your gear is in good, working condition.
Never climb alone.
Watch for falling rocks and be careful about dropping rocks on people below.
Wear a helmet.
Take drinking water.
Hunting is allowed within this park; wearing blaze orange is recommended during hunting season.
Be able to identify the two species of venomous snakes here, the copperhead and timber rattlesnake. Be careful where you reach. Snakes may hide in crevices in rock faces.
Be able to identify poison ivy.
Open cliffs are very dangerous during a lightning storm; seek safe shelter away from the rim and tall trees.
Plan ahead and prepare:
Know and follow all park regulations.
Research climbing routes in advance of your visit.
Schedule your trip to avoid times of high use.
Check out weather forecasts.
Please help protect your national park.
The use of top anchors decreases impacts on cliff-top ecology. Please do not use tree trunks or other vegetation as anchors.
Do not "clean" the cliff top by removing moss, lichens, leaves, and other natural materials. This destroys critical wildlife habitat.
Defacing, damaging, or altering the natural rock surface is prohibited.
Use "Leave No Trace Outdoor Ethics"
Last updated: December 4, 2017