Climbing at New River Gorge

Within the 63,000 acres of New River Gorge National River are over 1,400 established rock climbs. "The New" has become one of the most popular climbing areas in the country. The cliffs at New River Gorge are made up of a very hard sandstone, and range from 30 to 120 feet in height. The rock is very featured, and an abundance of crack and face routes are available. Most of the routes in the gorge favor the advanced and expert climber. The majority of routes are 5.9 and harder, and most sport routes fall in the 5.10 - 5.12 range. A guidebook is an essential tool for locating climbs, and local climbing shops can offer information and specific recommendations.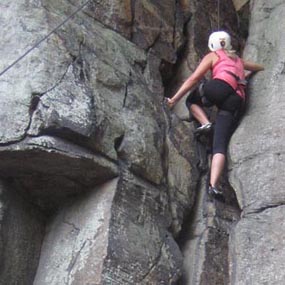 Helpful Information for Climbers
Climbing Season

The climbing season at New River extends from April through November. The best months are usually late April to mid-June, and mid-September to late October.
Food and Water

Water is available at the spring on Route 82, one mile past Bridge Buttress, and at Canyon Rim Visitor Center. There are numerous markets and eating establishments in nearby towns.
Showers

Showers can be purchased at many of the private campgrounds in the area. Please do not bathe in the restrooms at park visitor centers.
Camping

There are many private campgrounds located within easy driving distance from the climbing areas. Primitive camping is allowed on park property. Camping is prohibited within 100 feet of parking areas, water sources, historic sites, or the top rim of the cliffs.
Private Property

There are many areas of private property within the New River Gorge, including some within the park boundary. Do not trespass on private property!
Parking and Security

Park in designated parking locations -- do not block roads or driveways. Always change clothes out of view. For security reasons, do not leave vehicles unattended overnight at parking areas or trailheads. Hide or remove all valuables while climbing, and lock vehicles.
Safety First
Climbing has inherent risks and hazards, and is a potentially dangerous activity. A variety of skills and techniques are required to ensure a safe climbing experience. Please seek qualified instruction before venturing onto the cliffs. Many of the climbing locations are located miles from roads, and rescue is difficult. Please, climb smart! In case of emergency, call 911.

Climbing Safety Page: Check the climbing safety page for information on how to have a safe climb.