NRG 100 Mile Challenge Continues in 2017
Date:
January 11, 2017
Contact:
Jodi French-Burr, 304-574-2115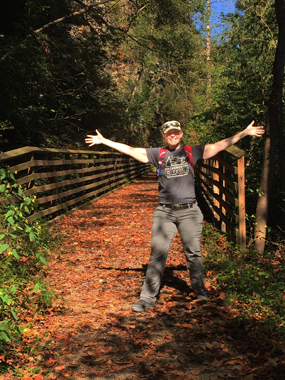 Glen Jean, West Virginia 
— Celebrate parks and health in the National Parks of Southern West Virginia with the continuation of the New River Gorge National River 100 Mile Challenge. This program started in 2016 as a way to celebrate the 100
th
 anniversary of the National Park Service, but it has grown into something more! The program's success is inspiring more and more people to get out and explore parks. This challenge is a fun way to set goals and push yourself to hike new trails, find new friends, and make new memories in your national parks.  
This on-going hiking challenge is open to everyone, including pet companions. No need to register anymore. Learn more about this challenge, print a copy of the log form, and get a park trails map at 
www.nps.gov/neri/planyourvisit/new-river-gorge-100-mile-challenge.htm
. Then simply start hiking in New River Gorge National River and Bluestone National Scenic River, where there is 100 miles of trail to explore the rich nature, history, and scenery of the area. Share your challenge highlights on Facebook, Twitter, and Instagram (#NRG100mi), encouraging others to explore the wonders of national parks. All challenge participants that hike 100 miles will receive a prize.  
This celebration of parks and health is coordinated by the National Park Service, Active Southern West Virginia, and the YMCA of Southern West Virginia. Happy hiking!    
Last updated: January 11, 2017