New River Gorge 100 Mile Challenge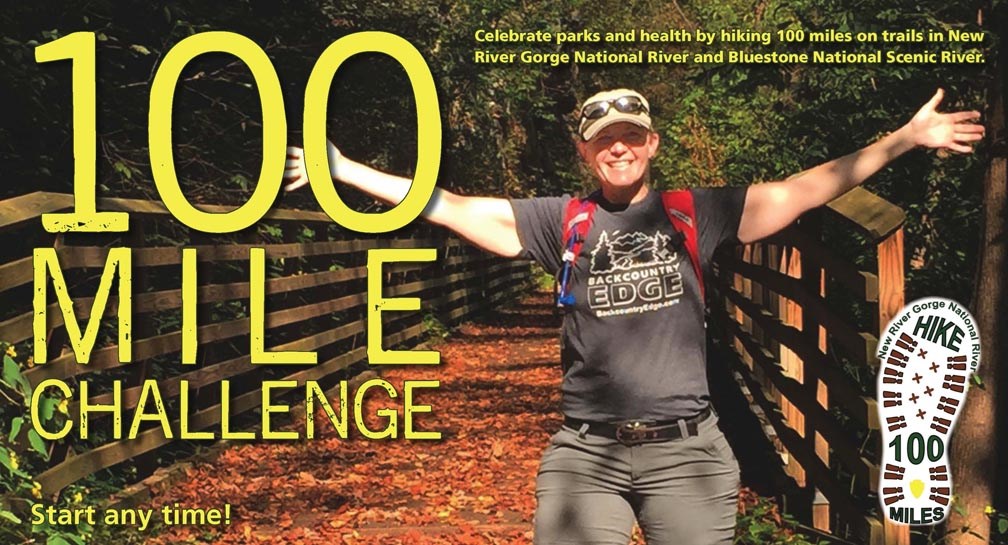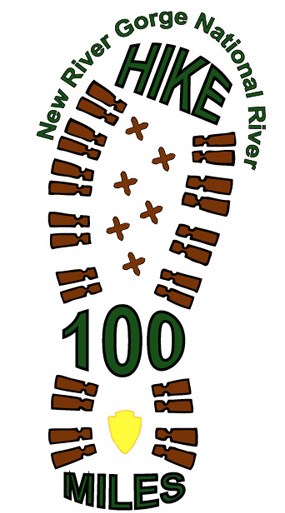 We started the 100 Mile Challenge as a way to celebrate the 100th anniversary of the National Park Service, but it has grown into something more! The program's success is inspiring more and more people to get out and explore the trails of New River Gorge National Park and Preserve, which is really what we are all about. This is a fun way to set goals and push yourself to hike new trails, find new friends, and make new memories in your national park.

Join the National Park Service, Active Southern West Virginia, and the YMCA of Southern West Virgina by becoming a Hundred Mile Hiker along the trails of New River Gorge National Park and Preserve and Bluestone National Scenic River. Just keep track of miles you've hiked in the park and when you reach that magic number –100 –you will earn a special prize that places you in that elite group of wilderness pedestrians.
Share your progress with us and post photos on Facebook or Twitter. Just hashtag it #NRG100mi.

Pick up a hike log at Sandstone or Canyon Rim Visitor Center to keep track of your miles. When you have reached 100 miles, turn in the completed log at either Visitor Center to receive your decal.
More Information:
To learn more about about hiking trails in the park, please visit our
hiking page
for trail mileages, maps, and information.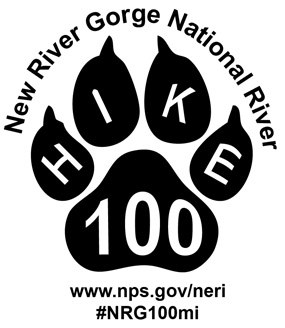 Is your dog joining you for the challenge?
Dogs are great companions for enjoying the outdoors and are allowed on trails in New River Gorge National Park and Preserve. By popular demand, canine companions can participate in this challenge. To complete this challenge, each participating pet must hike 100 miles in the park with their human companion.
To register your dog, simply add your pet's name to your email when you register for this challenge (and indicate that this is a pet). Keep track of the miles your dog hikes in the park along with your own miles. Dogs who hike 100 miles will receive a special pet award.
Please respect all visitors to parks and help protect site resources by following the park's pet policies:
Dogs must be kept on a leash no longer than 6 feet at all times. Leashes protect pets from becoming lost, from hazardous wildlife encounters, and from scaring or threatening wildlife. Leashes also protect other visitors who may be afraid, allergic, or who do not want a pet approaching them.
Pick up your pet's excrement. It is unpleasant to encounter and degrades the park's ecosystem.
Bring water for your pet to drink on your hikes. Streams may contain bacteria or parasites such as Giardia that are harmful to you and your pet.
Last updated: November 8, 2021