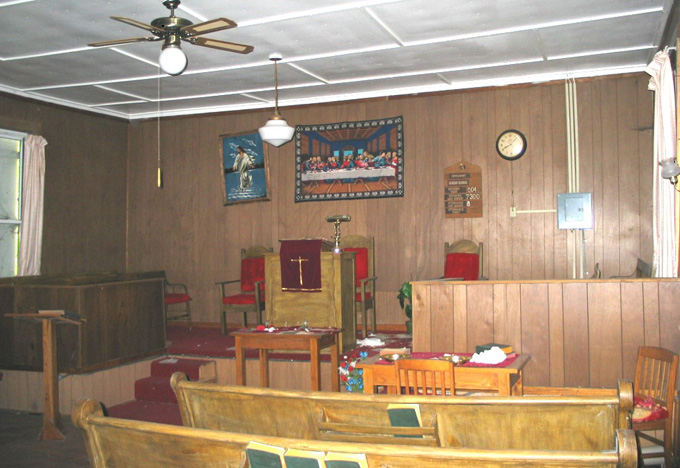 News Release Date:
February 11, 2016
Contact: Julena Campbell, 304-465-6523
Glen Jean, West Virginia –The National Park Service (NPS) is seeking information in the investigation of a recent break in and robbery of the historic Baptist "black church" in Quinnimont, a small riverside community along State Route 41 inside New River Gorge National River. On Sunday, February 7, NPS rangers discovered that numerous furnishings had been stolen from the church. The missing wooden furniture includes: 11 pews (ranging from seven to ten feet long, most of them with end arm rests and hymnal racks on the back, and upholstered red seat cushions), five spindle back choir benches (approximately six feet long, with end arm rests and red seat cushions), three high back chairs (with arm rests, and upholstered red back and seat cushions), two slat back chairs (no arm rests, no seat cushions), two rectangular tables (several feet in length), a large three-sided podium, and a small lectern stand.  
Quinnimont is one of the first coal mining towns of New River Gorge. The "black church" was constructed around 1900 to serve Quinnimont's growing African American community during a time of segregation. "This church is more than just a piece of our history," Superintendent Trish Kicklighter saidon Thursday. "It also represents the future preservation of an important story. Local volunteers have donated dozens of hours to participate in a clean-up day, oral history interviews, and other projects to get the church and surrounding area ready to be featured as a premier stop along a new African American Heritage driving tour that the NPS and several community partner organizations are developing this year. These items are irreplaceable and we are reaching out to the community to assist us in finding the person or people responsible for this crime and to have the furnishings returned."
Anyone with information regarding this case is asked to contact the NPS at 304-465-6516 or Crime Stoppers of Raleigh County at 304-255-STOP (7867). The 24-hour tip line allows callers to remain anonymous. Cash rewards of up to $1000 are available to anyone providing information that leads to an arrest. Information on this crime or other violations may also be reported online at www.crimestoppersofraleighcounty.org.
About the National Park Service. More than 20,000 National Park Service employees care for America's 409 national parks and work with communities across the nation to help preserve local history and create close-to-home recreational opportunities. Learn more at www.nps.gov.