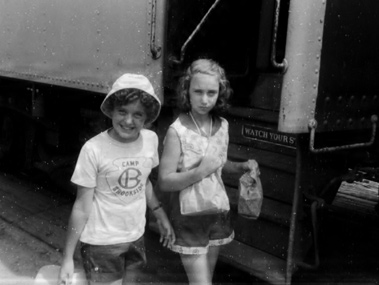 News Release Date:
September 15, 2014
Contact: Angela Allison, 304-465-6508
Glen Jean, West Virginia, September 15, 2014–Preparations are underway for the sixth annual Hidden History Weekend at the New River Gorge National River. This year's event will highlight Camp Brookside, the 32 acre Isle of Fun in Brooks. Camp Brookside opened in July 1947 as a summer camp for children of Union Carbide's Alloy plant. Campers attended two week sessions to learn how to ride a horse, swim, paddle a canoe, and shoot a rifle during their trips to Camp Brookside. They earned special awards for their accomplishments in these tasks and many still treasure their patches today. 
This year's Hidden History Weekend will kick offon Friday,September, 26, 2014with an invitation-only reunion for all former Brookside campers.On Saturday,September, 27, 2014, the Isle of Fun will host an open house from 2:00-5:00 p.m. This event will feature 1940s/50s era summer camp games and crafts. Restored camp structures will be open to the public for the first time and original Brookside campers will share stories of their adventures at summer camp. Visitors are encouraged to park at the Summers County High School on WV Route 20 in Hinton and ride the shuttle bus onto the island.
After purchasing Camp Brookside in 1993, the National Park Service stabilized the structures that have remained largely untouched. Today, renovations are underway to bring the facility up to date to serve as a residential youth camp and environmental education center. The camp is equipped with six cabins, a mess hall, a wash house and a caretaker's residence. Once the restorations are complete, Camp Brookside will become a place where youth can play, learn, serve and work in three National Park Service units including New River Gorge National River, Gauley River National Recreation Area and Bluestone National Scenic River.
Additional Hidden History Weekend activities include events at the Coal Heritage Interpretive Center, Tamarack, Carnifex Ferry Battlefield, Little Beaver, Pipestem Resort, Hawk's Nest, Twin Falls Resort, and Babcock State Parks. To see the complete program schedule, visit https://www.nps.gov/neri/planyourvisit/hidden-history-weekend.htm
Park updates will be posted to the park's website at www.nps.gov/neri. You can also find updates on the park's Facebook page at https://www.facebook.com/newrivergorgenps orfollow us on Twitter at https://Twitter.com/NewRiverNPS.