Hidden History Weekend

Join us for the tenth Annual Hidden History Weekend: September 28-30, 2018
Celebrate the wonders of Appalachian heritage and the rich sites and stories of our region's diverse history! Free programs will take place at New River Gorge National River, the National Coal Heritage Area, Tamarack, the town of Hinton, and Babcock, Carnifex Ferry Battlefield, Pipestem Resort, and Twin Falls Resort State Parks.

Check back soon for a schedule of events and more information.
Saturday, September 29, 2018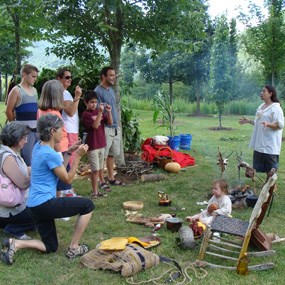 The Last Hunt
Sandstone Visitor Center
10:00 AM-4:00 PM
Two hundred and fifty years ago, as summer came to an end, the Delaware and Shawnee tribes departed their towns just north of Ohio River and started up the Kanawha and New River bison traces to occupy their fall and winter hunting grounds one last time before British colonists swept into the valley after the boundary negotiations of 1768. Step back in time as living history interpreters portray a typical fall hunting camp of a small family group of Delaware and Cherokee on their last hunt in the New River Gorge. Demonstrations on shelter construction, cooking, skin tanning, and preserving food for winter use will be conducted throughout the day. Stop by Sandstone Visitor Center in Sandstone, West Virginia anytime during this presentation.

10:00-10:30 AM Demonstration of temporary hunting lodge construction
11:00-11:30 AM Useful native plant walk
1:00-1:30 PM Skin tanning demonstration
2:00-2:30 PM Food preparation/preservation demonstration
3:00-4:00 PM Cherokee Ostenaco History Alive! presentation in the theater; This presentation is a History Alive! program of the West Virginia Humanities Council.

Last updated: August 13, 2018