Education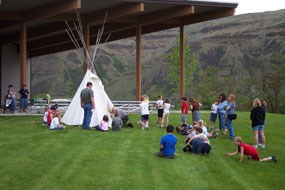 Nez Perce National Historical Park
Rangers at the park's visitor center in Lapwai, Idaho offer a unique opportunity to learn about a people and culture that has been part of this land for thousands of years.
To experience this special place, we have provided all of the information that you need to schedule a program with a ranger or utilize our curriculum materials to tell the story of the Nez Perce in your classroom. Enjoy your visit!
Big Hole National Battlefield
Rangers at the battlefield near Wisdom in southwestern Montana offer to school groups for one week each May. During this fun, interactive, educational experience students rotate through activity stations on the battlefield and with various cultural demonstrators. Each school group reserves a one day slot from 10am to 3pm. Check the Coyote Camp website for this year's dates and details on how to register.
Bear Paw Battlefield
Rangers at the battlefield near Chinook in north central Montana offer several types of educational programs. Reservations are required for school groups who would like a ranger to visit their classroom or lead a guided tour of the battlefield. Educational programs can be tailored for any age group and topics can range from introductions to the Nez Perce people and culture to the Nez Perce Flight of 1877. Educators and organized groups please call (406) 357-3130 or email us to make arrangements.
Groups that arrange a tour of the battlefield are encouraged to also visit the Blaine County Museum to view the multimedia presentation "40 Miles to Freedom." Please contact the Blaine County Museum at (406) 357-2590 for more information.


Last updated: December 2, 2021