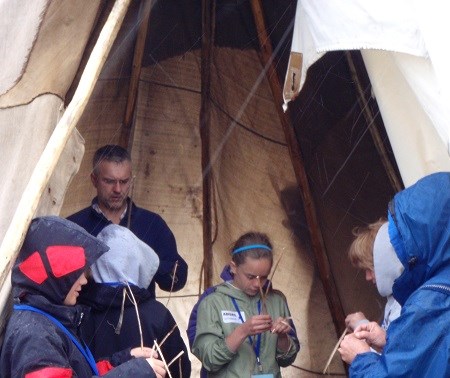 Big Hole National Battlefield
Coyote Camp
Coyote Camp is Big Hole's premier education program for school groups. During this fun, interactive, educational experience students rotate through activity stations on the battlefield and with various cultural demonstrators. Coyote Camp is offered during one week only in late May. Each school group reserves a one day slot from 10am to 3pm. Schools who want to get the highest quality educational experience out of their visit are encouraged to attend Coyote Camp.
2018 Coyote Camp Information
Dates: Monday, May 21 through Friday, May 25, 10am to 3pm
Reservation Form: Please download and fill out the form, then email, fax, or mail it back to us.
Space is limited to the slots you see below, so make your reservations soon. Each time slot has space for up to 25 students. Larger classes and schools will require multiple slots.
What to Expect Next: Once your reservation form is received, we will contact you to verify the date and enter your group into the calendar slot below.
Coyote Camp Reservations - updated 05/01/18

Mon 5/21

Anaconda High
9th Grade

Anaconda High
10th Grade

Margaret
Leary Elem
5th Grade

Margaret
Leary Elem
5th Grade

Margaret
Leary Elem
5th Grade

Tues 5/22

Daly Elem
4th Grade

Daly Elem
4th Grade

Daly Elem
4th Grade

Daly Elem
4th Grade

Dillon Elem
3rd Grade

Dillon Elem
3rd Grade

Dillon Elem
3rd Grade

Dillon Elem
3rd Grade

Wed 5/23

Helena Flats
8th Grade

Butte Central
4th Grade

Butte Central
5th Grade

Riverstone
School

Lincoln Elem
1st grade

Lincoln Elem
1st Grade

Lincoln Elem
1st Grade

Lincoln Elem
1st Grade

Thurs 5/24

Salmon School
4th Grade

Salmon School
4th Grade

Salmon School
4th Grade

Hamilton
Homeschool

SW MT
Homeschool

Kalispell
Montessori Elem

Fri 5/25