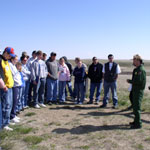 EDUCATION AND GROUP RESERVATIONS
Group reservations are required for schools and groups to visit the park. Please download and fill out the attached form and e-mail or mail it back to the park to ensure that your school gets the most out of your visit to the park. The park's e-mail and address is on the form.
If you do not see your groups name on the list below within three days after e-mailing your reservation form, please call the park immediately.
The reservation form is available here as a form fill-able pdf.
The following schools and groups have been approved:
Darby Elementary School - April 30, 2015
Whitefish Middle School - May 5, 2015
Whitefish Middle School - May 8, 2015
Vaughn School - May 9, 2015
Dillon Middle School - May 11 & 12, 2015
Trout Creek School - May 15, 2015
Coyote Camp 2015
May 18: Butte West, Whitehall, Lincoln
May 19: Parkview Elm, Victor, Silver Bow Montessori (openings for <50 students)
May 20: Helena Flats, Daly Elm, Lincoln, Lima (Full)
May 21: Lincoln, Superior, Pioneer Elm (Full)
May 22: Corvallis, Valley Christian, Butte Central,
May 26: St Ignatius Middle School
June 4: Somers Middle School
June 23 - 25: Center for Excellence
July 30: Rocky Mountain School of Photography
September 18: Hamilton Christian Academy
September 22: Twin Bridges & Ovando
September 25: Montana Youth Challenge Academy
September 29: Stevensville Middle School
October 3: ROTC- MSU/Carroll
October 6: Stevensville Middle School