54th Massachusetts Volunteer Infantry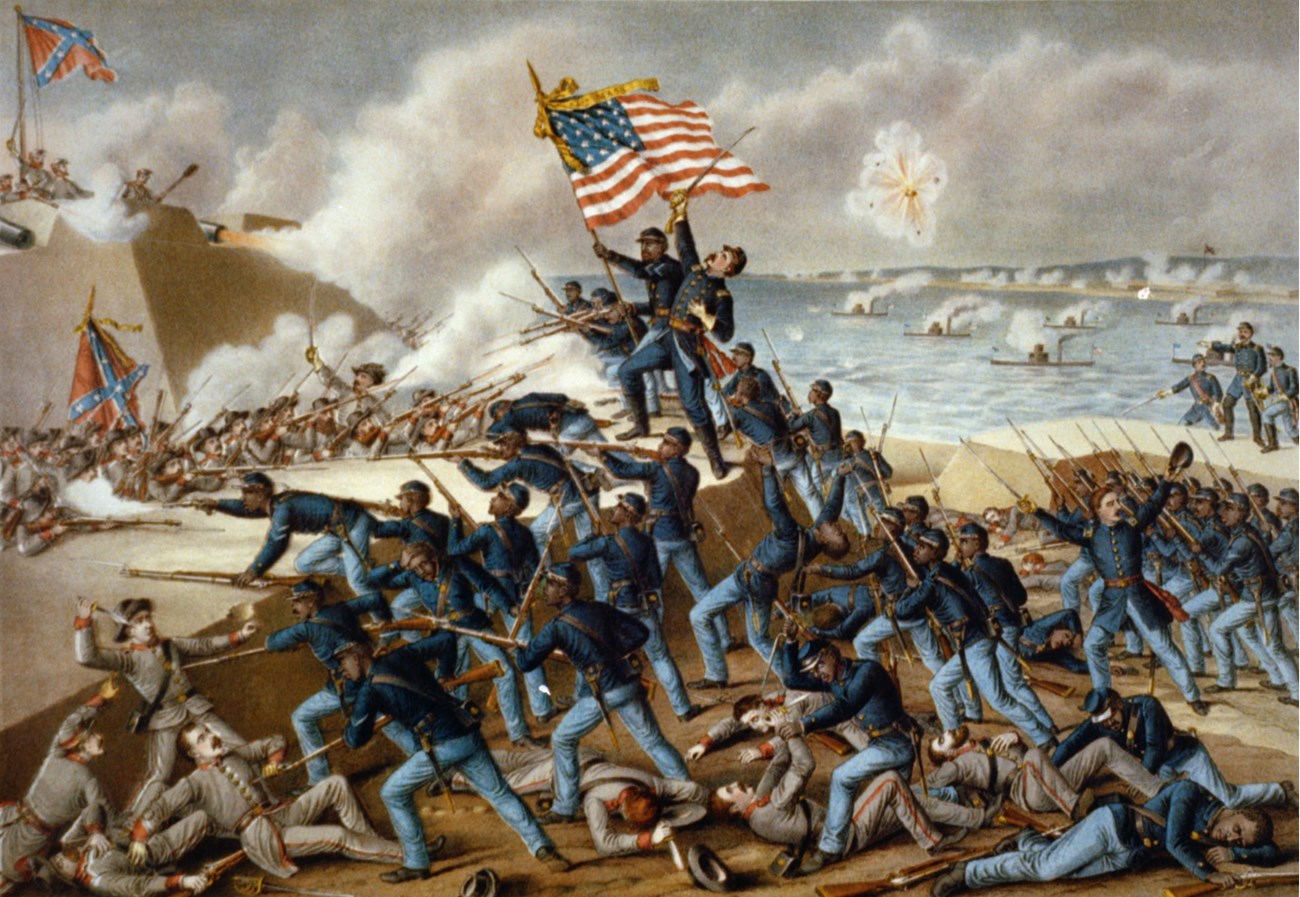 About
The 54th Massachusetts Volunteer Infantry Regiment was one of the first federally recognized African American regiments that fought in the Civil War. An enlistment station for Company C was located in downtown New Bedford, adjacent to the U.S. Custom House.

More than 60 New Bedford men enlisted in Company C or other companies of the 54th Regiment. A brick walkway with their names was dedicated at the former recruitment site in 2016.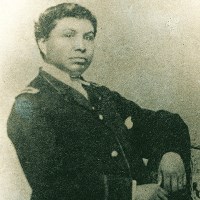 William Powell
William P. Powell, Jr. was born in New Bedford, Massachusetts in 1834 to an African American father and Wampanoag mother. He later became the first African American physician to receive a contract as a surgeon with the Union Army.

Powell — who trained at the College of Physicians and Surgeons in London, England — was assigned to Contraband Hospital in Washington, D.C. He served in D.C. from May 1863 through November 1864.

Powell died in England in 1915.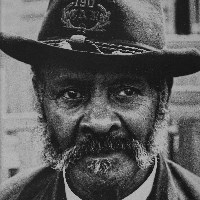 Isaiah King
Isaiah King was a member of Company D of the 5th Massachusetts Calvary. King enlisted in New Bedford at the age of 16 in 1864, and participated in the Siege of Petersburg that year. His unit was among the first Union regiments to enter Richmond, Virginia on April 3, 1865. After the war, King served as commander of the Grand Army of the Republic Post 146 in New Bedford.

He died on February 13, 1933.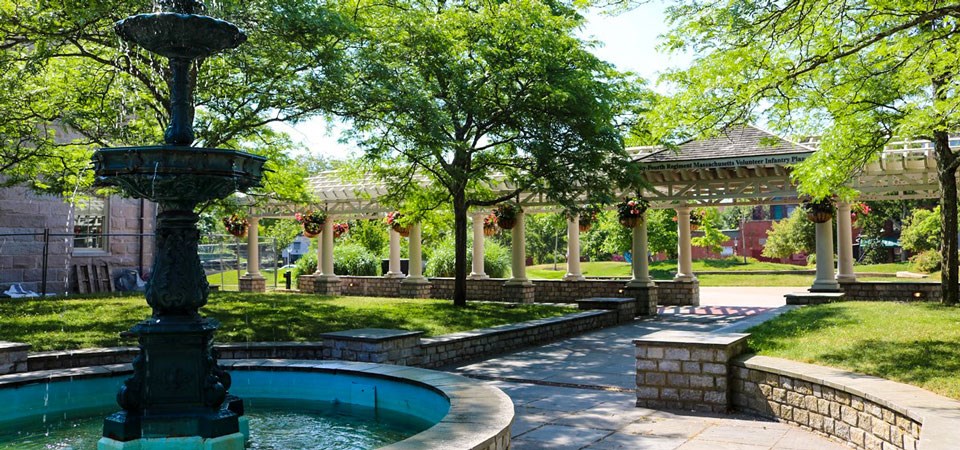 54th Massachusetts Volunteer Infantry Memorial

In February 1999, the city of New Bedford dedicated this William Street plaza as a memorial to New Bedford people of color who fought for the Union Army during the Civil War. More than 100 years prior, the site served as a recruiting station for those troops.

The 54th Massachusetts Volunteer Infantry was the first African American regiment ever commissioned in United States history. In 1863, some 50 New Bedford men of color enlisted in the 54th and 55th regiment, the latter formed from the surplus of recruits.

In total, more than 350 New Bedford men of color served in the Union forces between 1861 and 1865 in the 54th and 55th Regiments, the 5th Cavalry, and the U.S. Navy. Some soldiers are known to have escaped slavery before enlisting, including William Carney, John L. Wright, and Wesley Furlong.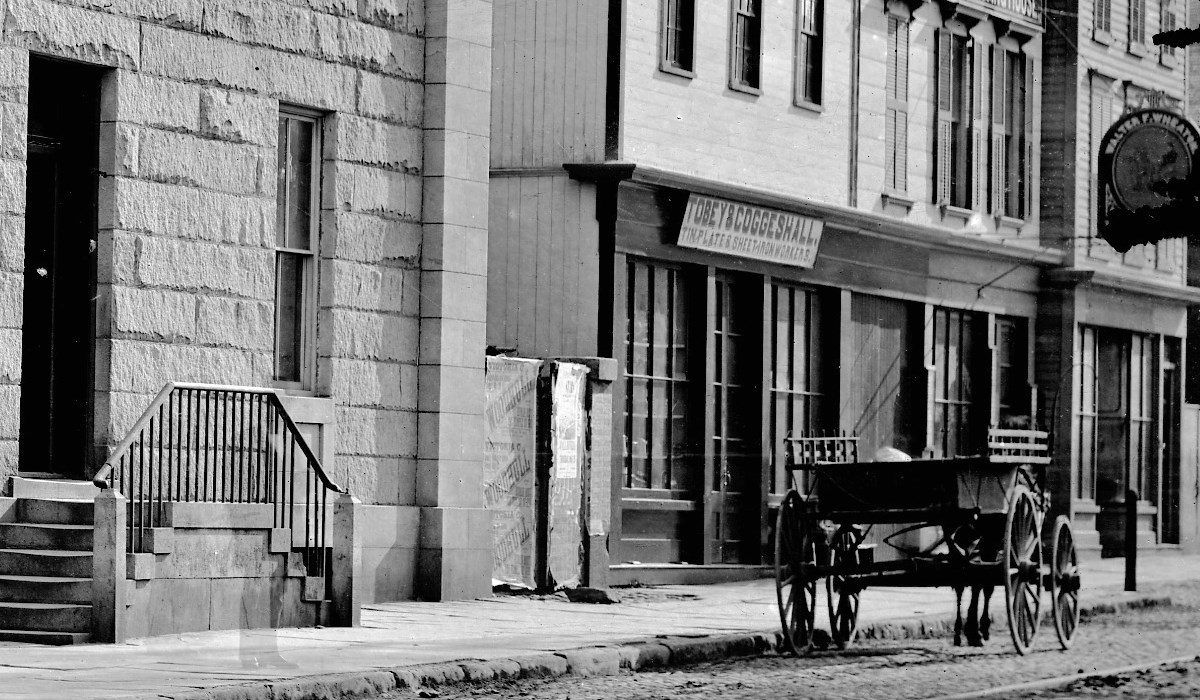 Tobey & Coggeshall
Tobey & Coggeshall was a successful New Bedford tinsmith and plumbing storefront located directly west of the U.S. Custom House. In 1863, the building also served as the recruiting office for Company C of the 54th Massachusetts Infantry.

The 54th Massachusetts Infantry was the first African-American regiment in U.S. history. Opening on February 10, 1863, 120 men enlisted in this building, with more than 25 percent being New Bedford residents.

The building was later demolished and the site is now home to the 54th Massachusetts Volunteer Infantry Plaza.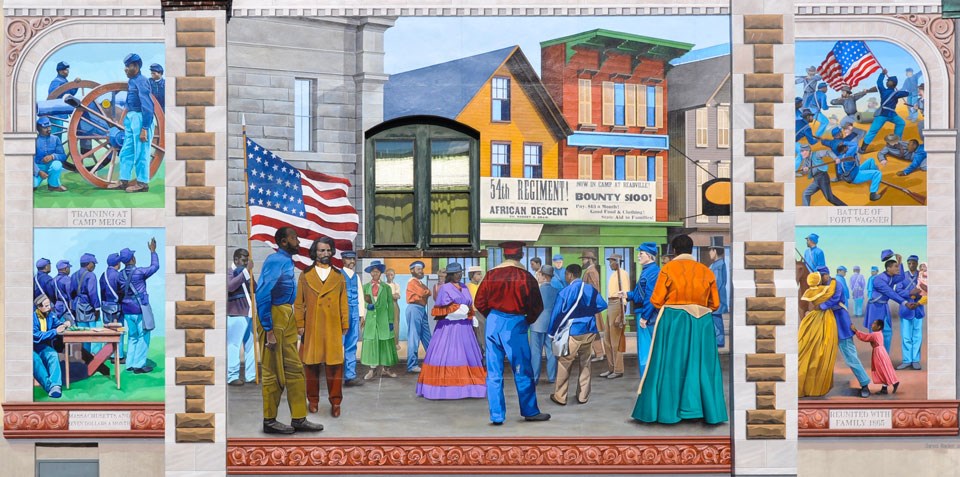 54th Regiment Massachusetts Volunteer Infantry Regiment Mural
(Located in the parking lot)
41 William Street
New Bedford, MA 02740
Last updated: January 27, 2022