James Gooding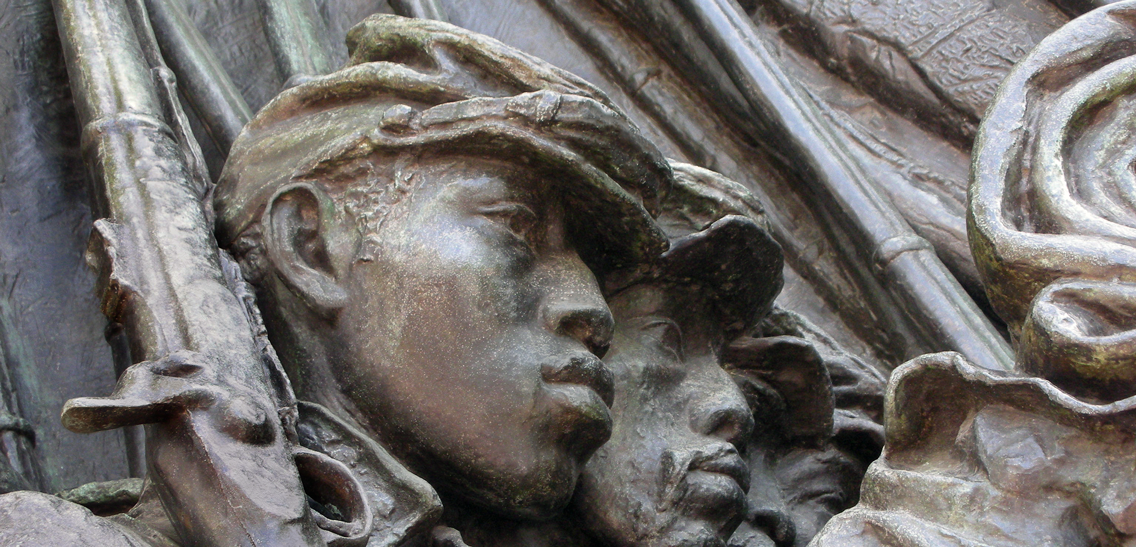 James Henry Gooding
Most likely the son of a white master and slave mother, not much is known about Gooding's early life. He first came to New Bedford at the age of nineteen in the summer of 1856. Often referred to by his middle name of "Henry," Gooding enlisted and served as a crewmember on the whaleship Sunbeam (crewlist) for a four year cruise to the Pacific and Indian Oceans. Returning in April 1860, he enlisted on a second voyage on the bark Black Eagle (crewlist). After a shorter cruise of just over a year, the Black Eagle returned to New Bedford on November 3, 1861.

With the outbreak of the American Civil War, Gooding and his fellow African Americans in New Bedford were sidelined. During the war years, on September 28, 1862, Gooding married Louisa Allen at the Seamen's Bethel. However, the passage of the Emancipation Proclamation on January 1, 1863, and Governor John Andrew called for the formation of the 54th Massachusetts Volunteer Regiment in the spring of 1863, allowed Gooding to enlist. He was the eighth man to enlist in Company C from New Bedford on Valentine's Day of 1863.

As a member of the 54th, Gooding wrote letters to the local New Bedford Mercury. In his letters Gooding detailed everything from their training at Camp Meigs in Boston, to their heroic fight to capture Fort Wagner in Charleston, South Carolina. In a letter to President Lincoln, Gooding indicated the injustice of receiving $3 less than white soldiers per month.

Confederate troops captured Gooding during the Battle of Olustee on February 20, 1864. Sent to Andersonville Prison as a Prisoner of War, Gooding later died from his wounds and maltreatment on July 19, 1864. He is buried in the National Cemetery at Andersonville National Historic Site in Georgia.
Last updated: February 4, 2021