Getting Around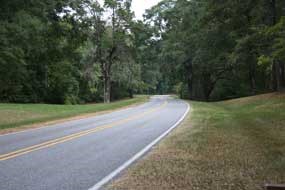 The Natchez Trace Parkway is a parkway with benefits. It was designed in the 1930s and inspires a leisurely, relaxed drive through forests and agricultural land. The 53,000 acre corridor protects 10,000 years of history and pockets of natural areas.

All travelers should be aware of the following precautions when traveling.
Check the Alerts. They have up-to-date, important information about detours and closures.
Speed limit is 50 mph, unless otherwise posted
The Parkway is a designated bike route. Motorists are reminded to watch for bicyclists on the Parkway. The curves, hills and shade along the road can hide bicyclists.
Watch for wildlife, especially around dusk and dawn. If a deer crosses in front of you, its friend may be following. Use your horn. It may help.
Travel is not advised at night, or during severe weather (heavy rain, ice, sleet, snow, strong wind)
The Parkway occasionally closes during hazardous weather.
There are many state and federal that go near, or cross the Parkway. On our park map, any road that is in the map is an exit or entry point, except those marked with ] [ on either side of the Parkway. Examples are HWY 45 in MS and HWY 840 in Tennessee, which are not access points.
Last updated: October 3, 2022