Temporary Photo Exhibit at Natchez Trace Parkway Visitor Center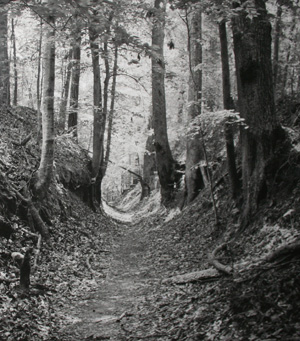 News Release Date:
February 14, 2008
Contact:
Visitor Center Staff
, 1-800-305-7417
Kate Cleghorn has loaned her fascinating photography to the Natchez Trace Parkway. The works Kate loaned are black and white photographs focusing on the cultural and natural history that can be seen along the Parkway. It will be on display at the Parkway Visitor Center from February 11 through March 31, 2008. Originally from Alabama, Kate currently resides in Putney, Vermont and is a member of the Vermont Center for Photography, in Brattleboro, Vermont, the National Museum of Women in the Arts (national and Vermont chapters), the Vermont Arts Council, and Women in Photography International. Kate received her MFA in photography from the Savannah College of Art and Design in Savannah, Georgia, and has also studied at Photographers Formulary (Montana), Maine Photographic Workshops, the Center for Photography at Woodstock (New York), the George Eastman House (Rochester, NY), and Zone VI, formerly of Putney, Vermont. She has taught photography for the Community College of Vermont, the Vermont Center for Photography in Brattleboro, Vermont and for the external degree program of Johnson State College of Johnson, Vermont. She assisted Geoff Winningham's Other Americas photography program in Oaxaca, Mexico for three summers; led the Great River Arts Institute's Day of the Dead program in Patzcuaro, Mexico; and also led the Community College of Vermont's Arts Appreciation program to Puebla, Mexico. Kate has exhibited nationally and internationally, has received grants from both the Vermont Arts Council and the Vermont Community Foundation, and has won a variety of awards for her imagery. In 2000, she was nominated by Peter Palmquist to the "2000 Women in Photography A Millennium Project" and was recently published in Alternative Photography: Art and Artists (2007), Edition I. This event is free to the public. The Natchez Trace Parkway Visitor Center is located along the Parkway at Milepost 266, just north of Barnes Crossing in Tupelo, Mississippi.