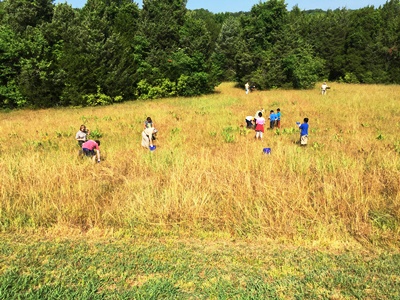 News Release Date:
July 15, 2016
Contact: Lisa McInnis, 662-680-4055
Tupelo, MS –The Natchez Trace Parkway (Parkway) partnered with local volunteers, Tupelo Public Schools Summer Environmental Camp participants, and Dr. JoVonn Hill from the Mississippi State Entomological Museum, to plant 6500 native wildflower and grass seedlings near the Black Belt Overlook interpretive area last month.  
The Black Belt Overlook offers visitors the chance to see a large area that was once Black Belt Prairie, a unique prairie type known for its dark and fertile soils. Much of this prairie near Tupelo is used for agriculture.At the Black Belt Overlook, a portion of the prairie on Parkway property was removed from agricultural leasing as the first step toward prairie restoration. Next, the area was treated with herbicide to reduce non-native plants such as Johnson grass. Through the help of volunteers, the Parkway was then able to plant the area with native species that historically occupied these unique prairie areas. "This was a great opportunity to engage the next generation of park visitors and land stewards, especially as the National Park Service celebrates its Centennial," said Chief of Resource Management Dr. Lisa McInnis.
"This was a joint effort that provided participants with the chance to learn about prairie restoration and milkweed, a species that is important to monarch butterflies and other pollinators," said Natural Resource Management Specialist Deanna Boensch. The plants were grown from seeds collected in other Black Belt Prairie locations along the Parkway. Dr. Hill, a long-time research partner of the Parkway, collected local seeds and supervised the greenhouse operations to grow the plants. The restoration process will continue with prescribed burning, additional plantings, and follow-up herbicide treatment of non-native plants.
About the National Park Service. More than 20,000 National Park Service employees care for America's 412 national parks and work with communities across the nation to help preserve local history and create close-to-home recreational opportunities. Learn more at www.nps.gov.