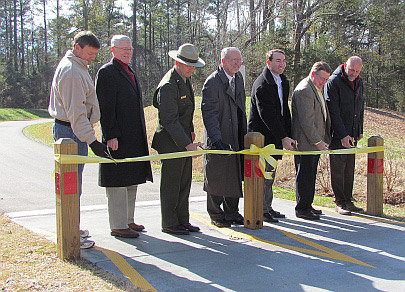 News Release Date:
February 11, 2011
Contact: Terry Wildy
Natchez Trace Parkway officially opened a new 5.3-mile-long section of the Multiuse Trail in Ridgeland, Mississippi, on Saturday, January 21st.   
Superintendent Cameron Sholly recognized trail development partners from the City of Ridgeland, Denver Service Center, and the Federal Highway Administration with superintendent's appreciation awards.  Representatives from Senator Thad Cochran's office, Madison County, Jackson Metro Cyclists and Bike Walk Mississippi were present to show their support for the new trail, which is designed to preserve the scenic cultural landscape of the parkway while providing an enjoyable recreational opportunity for the park's 6 million visitors. Over 500,000 people live in the adjacent Jackson, Mississippi Metropolitan Area. The trail is graded for wheelchair users and is heavily used by visitors and residents.
The project was funded through the Park Roads and Parkways program, administered by the Federal Highway Administration. An additional 5.5 miles of new Multiuse Trail are currently being planned and constructed south of the newly opened section and are due to be completed in the fall of 2012.