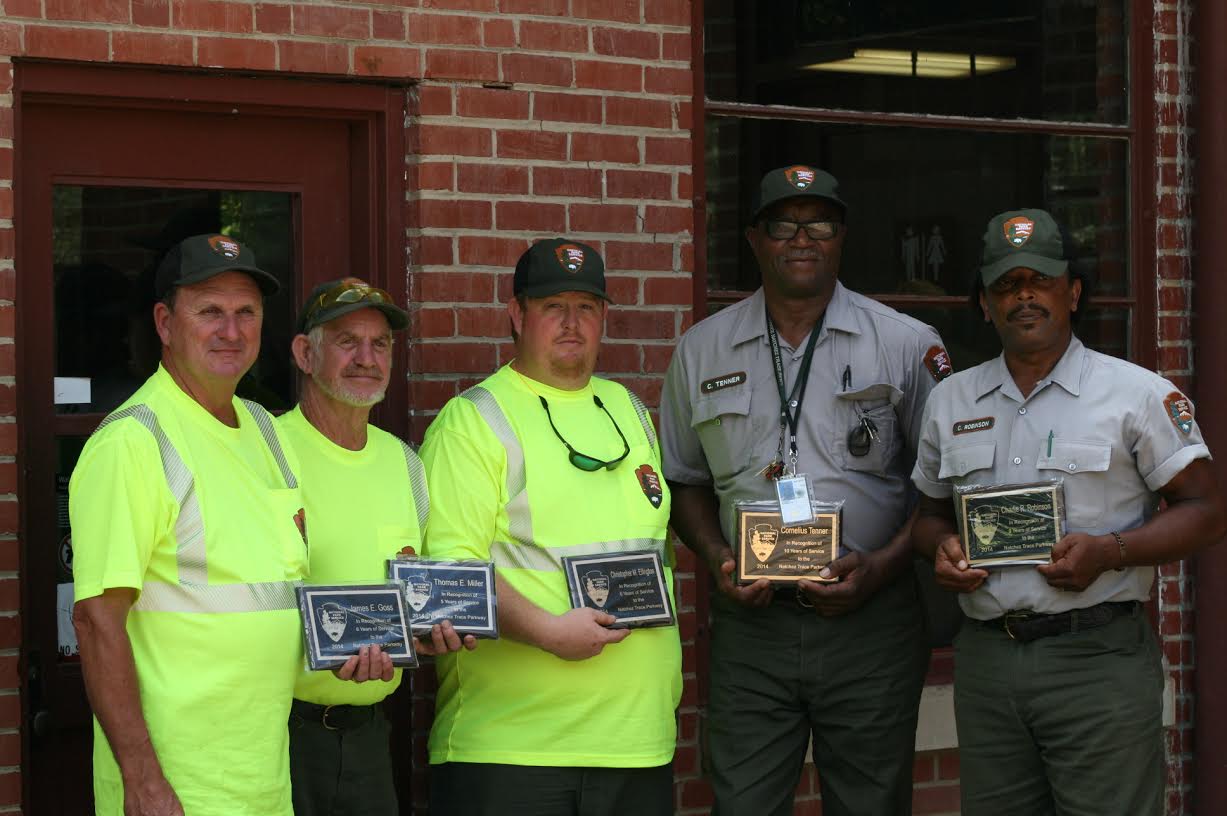 News Release Date:
September 15, 2014
Contact: Maggie Walker, 662-680-4005
RIDGELAND, MS: The Natchez Trace Parkway recognized the contributions of long-time seasonal
employees to the operation of the Parkway. Seasonal employees join the National Park Service's
workforce during the busiest time of the year to augment the efforts of permanent employees.
Depending upon the Parkway's budget, they can work up to 1,039 hours each year.
"Our seasonal employees are often said to be the backbone of the National Park Service workforce,"
stated Superintendent Mary Risser. "They come on board during the busiest time of the year and
heavily contribute to getting essential tasks done. Here, on the Parkway, most seasonal employees
work for maintenance and are responsible for mowing, weed-eating, and keeping the Parkway in the
amazing condition that our visitors get to enjoy on a daily basis."
Throughout the National Park Service, seasonal employees also present campfire talks, lead hikes,
conduct backcountry and river patrols, fight wildland fire, provide for search and rescue operations,
monitor threatened and endangered species, etc. Most work during the summer months. A few
seasonal employees are able to pick up work in parks whose primary busy season is in the winter.
"The Natchez Trace Parkway is very fortunate to have a cadre of seasonal employees who have been
returning for many years," continued Risser. "Some, such as Charlie Robinson who works out of the
Port Gibson office, have worked on the Parkway for nine seasons – some in the North District have
worked on the Parkway even longer. It's a privilege to present our seasonals with plaques to
recognize their service."
Following is a list of employees who have received awards.
Willie Harris 5 seasons
Thomas Miller 5 seasons
Christopher Ellington 6 seasons
Johnny Fowler 6 seasons
James Goss 6 seasons
Amy Williams 6 seasons
Emily Davie 8 seasons
Willard Chism 8 seasons
Frank Cooks 9 seasons
Ronald Gray 9 seasons
Tommy Parkerson 9 seasons
Charlie Robinson 9 seasons
Charles Bean 10 seasons
Cornelius Tenner 10 seasons
Connie Calton 11 seasons
Michael Perkin 11 seasons
Harold Wyatt 12 seasons
Jimmy Johnston 13 seasons
Cleophus Southward 15 seasons