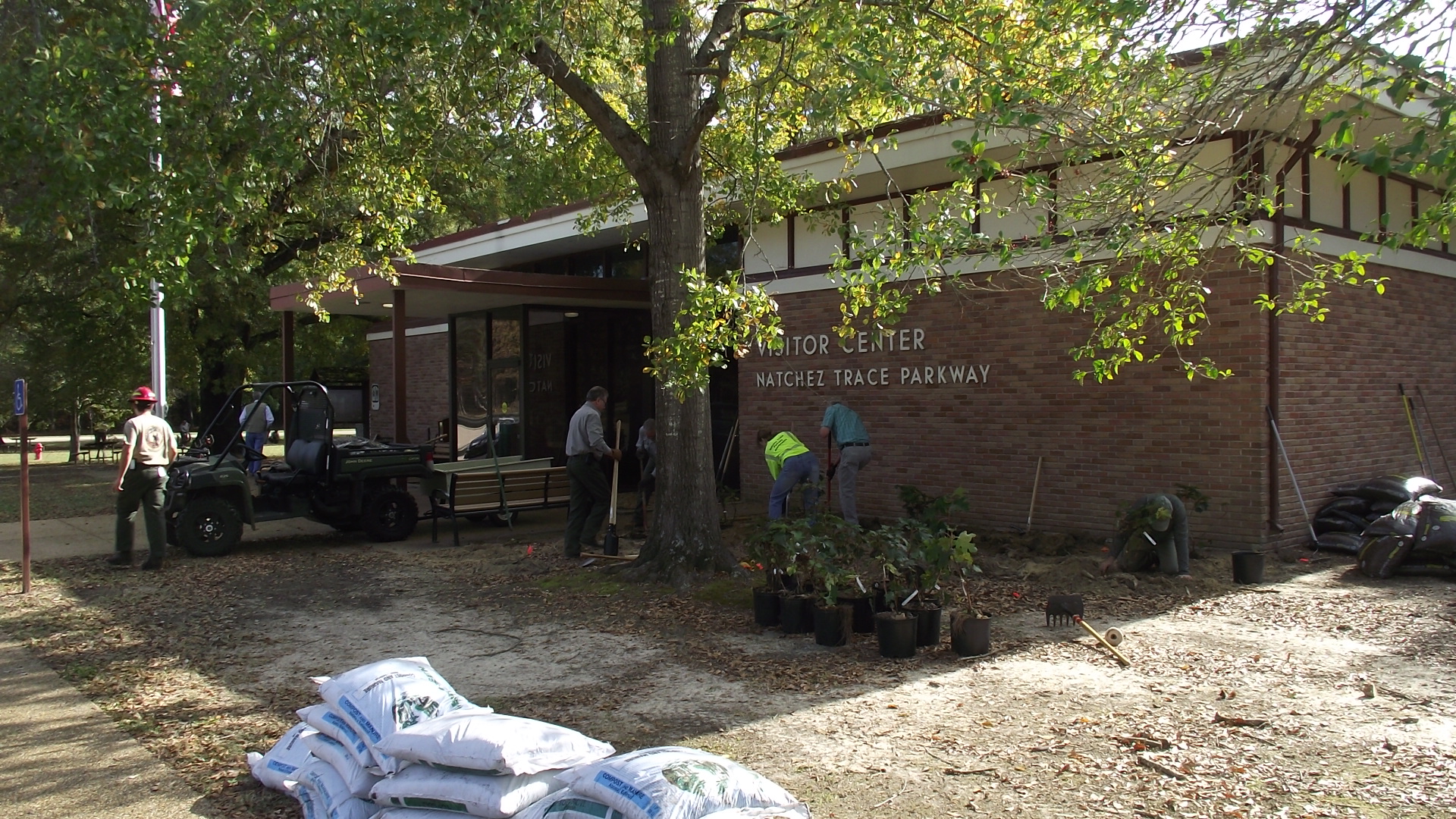 News Release Date:
December 9, 2014
Contact: Lisa McInnis, 662-680-4055
HEADQUARTERS, TUPELO, MS: "The National Park Service will celebrate the beginning of its second century on August 28, 2016," stated Superintendent Mary Risser. "To prepare for the celebration, staff members spent a week landscaping around the visitor center and headquarters building near Tupelo."
The Tupelo Visitor Center and Headquarters were part of a program titled "Mission 66," which was a 10-year, billion dollar initiative timed to be completed in 1966 –the 50thanniversary of the National Park Service. The program built numerous visitor centers, expanded campgrounds, widened roads, constructed comfort stations, and hundreds of other facilities in national parks. Over the years, many of the landscaping plants around the Natchez Trace Parkway visitor center died and were not replaced. The result was a relatively barren landscape. "This project reinvigorated the original design intent of the landscape," stated Landscape Architect Greg Smith. Use of a diverse group of native herbaceous and woody plants in the landscape not only looks attractive but benefits local wildlife.
"This week's work was truly an inter-divisional effort to complete this project," continued Risser. "The maintenance and fire management crews were instrumental in prepping the area for the planting. They also planted many of the larger trees throughout the week. On Friday, many of the employees took a break from working on computers and went outside to help with the planting."
To find out more about upcoming programs and general information about the Natchez Trace Parkway, please visit our website atwww.nps.gov/natr.