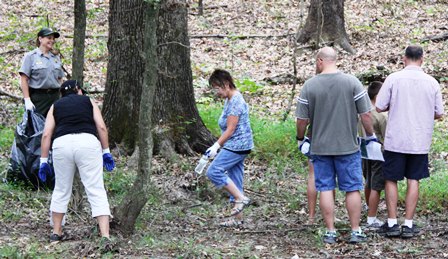 News Release Date:
October 6, 2015
On Saturday, September 26, 2015, Natchez Trace Parkway visitors were able to touch almost 500 years of history at three special events. At the Parkway Visitor Center, National Hispanic Heritage Month was celebrated with re-enactors from Mississippi Valley Educational Programs who engaged visitors in mock sword fights and in several other survival skills. These skills would have been used by Hernando de Soto and his soldiers in 1541 when they camped near the present day Natchez Trace Parkway, south of Tupelo, Mississippi. Fast forward to the 1800s era, visitors interacted with the Tombigbee Pioneer Group who taught participants to make baskets, corn husk dolls, and leather pouches. Saturdaywas also National Public Lands Day. Natchez Trace Parkway staff members enlisted volunteers to help carry out the modern-day mission of the National Park Service as they worked to help preserve and protect one of our nation's special lands.
National Public Lands Day began in 1994 with three federal agencies and 700 volunteers. Last year, 175,000 volunteers worked in more than 2,100 locations and in every state. This year, seven federal agencies and many state and local lands participated in this annual day of caring for shared lands. National Public Lands Day serves as an opportunity for visitors to show their appreciation for the lands by volunteering their time to protect and preserve the enjoyment of America's parks through hands-on service.
This year, National Public Lands Day volunteers participated in several activities including seed collection, litter pick up along trailheads and streams, and repairs to trails along the Natchez Trace National Scenic Trail.Parkway staff and volunteers removed over 20 bags of the invasive non-native Japanese stiltgrass.Under the direction of resource managers, volunteers also cleaned and reconstructed 1.1 miles of trails and handpicked thousands of flower seeds including those from Eastern Gamagrass, Bundleflower, Black-eyed Susan, Prairie Coneflower, Prairie Dock, and Prairie Clover to use for prairie restoration along the Parkway in 2016.

Natchez Trace Parkway staff members are dedicated to engaging volunteers and visitors in "hands on the lands" activities that help protect, enhance, and promote outdoor recreation and education that occurs on public lands every day.