Prescribed Fire Management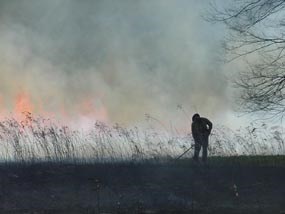 Prescribed Burns: Fuels Management at the Natchez Trace Parkway
As leaves, needles, and limbs fall, dead plant material accumulates on the forest floor. Severe weather, such as strong winds, hurricanes, and tornadoes, increase the amount of buildup. These fuels would naturally have been "cleaned out" by wildfires or fires lit by native peoples before historic settlement. Now, since wildfires are suppressed as quickly as possible to provide for public safety (see Fire Suppression), the buildups can be unnaturally large. This increases the risk that a wildfire will be more severe, and potentially catastrophic to the forest and surrounding communities. In order to combat this, alternative methods must be used to control fuel buildup and create a more natural-looking ecosystem. These methods fall under the duties of Fuels Management.
Visit our keyboard shortcuts docs for details
Duration:

5 minutes, 48 seconds
A video about fire management at the Natchez Trace Parkway. In the video are interviews with the Mississippi River Zone Fire Manager who shows how and explains why fire is used to preserve and protect the natural and cultural resources of the Natchez Trace Parkway and the Natchez Trace National Scenic Trail, especially the Chickasaw Village Site.
Goals for Fuels Management
There are three main goals for fuels management at the Natchez Trace Parkway.
1. Reduce the amount of fuel on the ground. By reducing this fuel, the threat of catastrophic wildfire is reduced.
2. Restore the historic composition of the forest by reducing the density of small diameter trees through the use of prescribed fire.
3. Increase the cover of native grasses and flowering plants, while preventing the increase of non-native plant species.
In order to reduce the risk of wildfire while attempting to restore its ecological role, areas with large fuel build-ups are identified and treated with a variety of fuel reduction methods. The two methods most commonly used are prescribed burning and mechanical treatments.Wildland areas near communities and towns are referred to as Wildland-Urban Interface (WUI) areas. WUI areas are exceptionally vulnerable to wildfires and therefore are often the primary focus of fuel reduction treatments.
Working Together to Get Things Done...
In addition to the prescribed burns conducted on the Natchez Trace, the fire crew also assists with burns conducted by other agencies within and outside of the National Park Service. By working together, all of the agencies involved can more effectively work toward common goals. The Natchez Trace fire crew assists with burning approximately 55,000 acres per year--about the size of the acreage within Natchez Trace boundaries. In return, the other NPS and non-NPS agencies frequently assist on Natchez Trace burns.

See below for a list of our cooperators.


Last updated: September 6, 2022