Ranger-Led Field Trips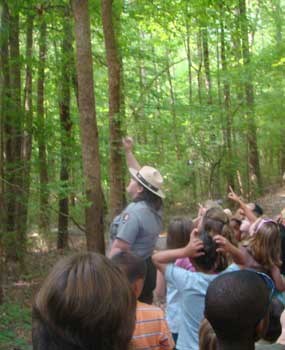 Field trips are a great way to incorporate learning into the school year.
There is no registration form to fill out to reserve a field trip. All we ask is that you contact a district at least two weeks before your intended trip to see if a ranger is able to meet you. We do not guarantee a ranger is available to join each outing, but we will try our best to accommodate your needs.
Overview
For any questions or to set up a field trip, you can

e-mail us

or call the visitor center listed below under "Specific Locations."

Field trips group size may be limited inside NPS buildings based on current reduced capacity limits due to COVID-19, however those limits do not apply to outdoor based activities. A 10 to 1 student to chaperone ratio is required.

Mask requirements vary by specific location on the Parkway, based on CDC's

COVID-19 Community Level tool

. If the CDC identifies a location as high COVID-19 community level, masks are required for everyone in all NPS buildings regardless of vaccination status. If that location is rated as low and medium COVID-19 community level areas, masks are optional in most, but you and your students should always follow signs and instructions from park staff and volunteers. Please be prepared for all situations.
All field trips are free
All locations must be on the Parkway for a ranger to join
School buses may only be on the Parkway for educational purposes only
Specific Locations
For information on specific programs offered and ranger availability please contact the district/visitor center you are interested in having a field trip near.
Southern District, by Natchez, Mississippi: please contact Mount Locust Inn and Plantation Visitor Center, by calling 662-601-445-4211, or e-mail.
Central District, by Tupelo, Mississippi: please contact the Parkway Visitor Center, by calling 662-680-4027 or e-mail.
Northern District, by Nashville, Tennessee: please contact the Meriwether Lewis Death and Burial Site by calling 662-322-7324 or emailing Jeremy_Childs@nps.gov.

Looking for a self-guided experience? Here is what you need to know!
Are you unable to escape the classroom and would prefer to meet with a ranger virtually? Check out our distance learning program!
Last updated: May 10, 2022