Event Planning Guide
Section 1. Information: Introduction to the National Capital Area
Section 2: Permitting Process
Section 3. Fees and Cost Recovery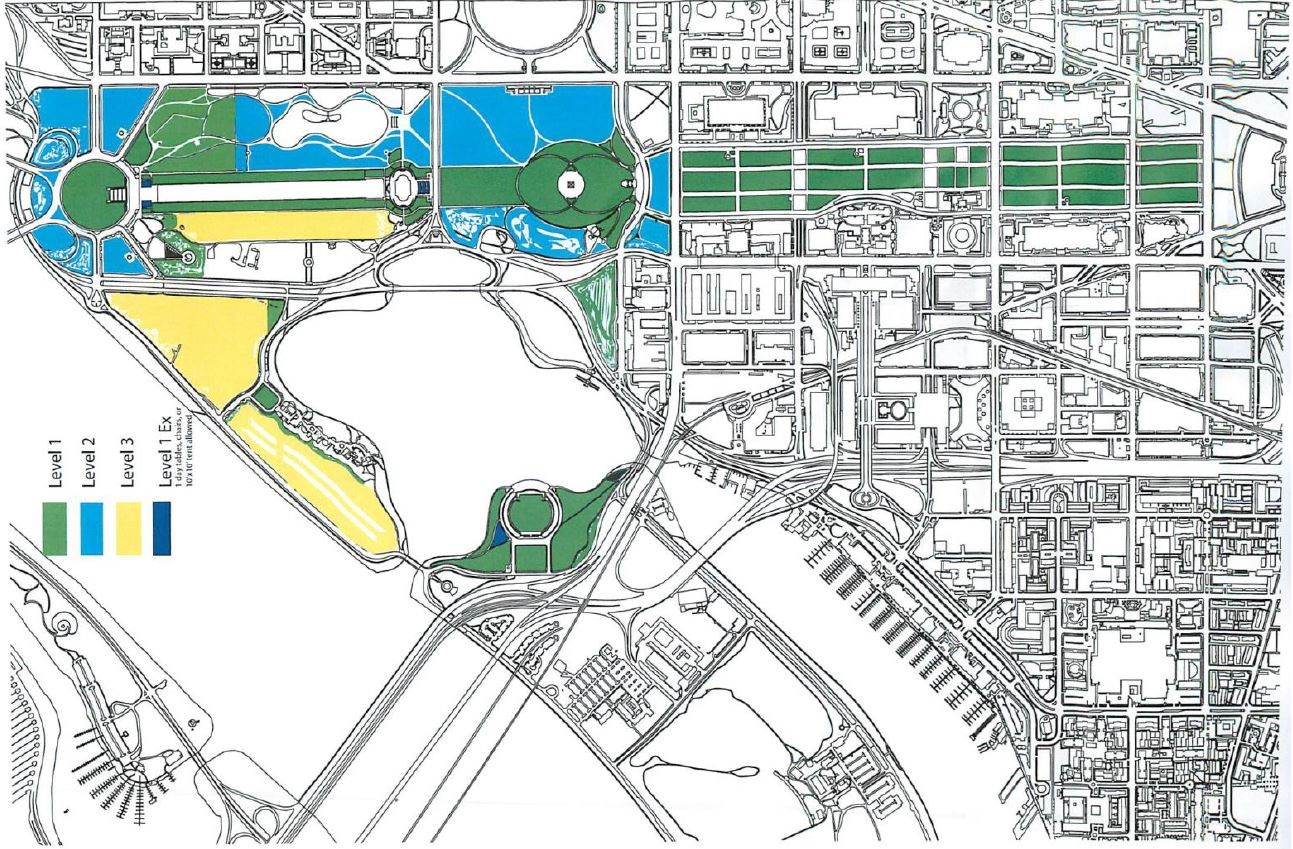 Section 4. Event Policies (General Rules and Policies)
Section 5. Event Security Protocol and Public Safety
The NPS conducts all permitted events in a manner that ensures and emphasizes both the safety of the public and the protection of property.

At any permitted event, NPS Permit Specialists and/or Event Monitors may be present for on-site supervision each day of the event. In addition, USPP officers may also be assigned to provide for public safety. All instructions given by authorized NPS or USPP personnel must be obeyed promptly. Failure to comply with all the terms and conditions of the special event permit may constitute grounds for revocation of the permit and immediate termination of the event and/or citation against the violator.

Beginning with event load-in, and continuing throughout the permit until load-out is completed, the Permittee is responsible for ensuring that no equipment or materials are left unattended at any time, including overnight. Supervision of materials can be accomplished by providing oversight by qualified persons from the Permittees organization, un-armed professionals from a commercial security firm, or USPP.

The Permittee is responsible for safety and crowd management. The Permittee may need to consider the safety and security of areas such as:
• VIP access points
• Exhibit areas
• Offices
• Storage areas

Only USPP can engage in law enforcement actions. Armed security is strictly prohibited at all times.

Services, including, but not limited to, VIP access control, VIP protection, and overnight security rounds, may be provided by employees of licensed, incorporated security companies or U.S. Park Police. Contracted security firms must meet the following criteria:
• All security personnel must be unarmed.
• The contracted security firm must provide appropriate insurance
• All contracted security personnel must possess a current Security Guard License
• All contracted security personnel must wear proper uniforms, and identification, and must exhibit a professional and courteous attitude
• The contracted security firm must have the ability to supply additional personnel as required
• The contracted security firm must attend scheduled briefing and operational meetings
• The contracted security firm must abide by all applicable laws, regulations, ordinances, and NPS policies

Security fencing and crowd control measures must be shown on the Site Plan.

NPS neither assumes nor accepts any liability whatsoever for any loss or injury incurred at any event.
Authorized NPS personnel do not require credentials to access event sites. Full access must be given to authorized NPS personnel to facilitate any and all site inspections and walk-throughs.

The Permittee shall provide to the NPS Permit Management Specialist and USPP, and any contracted security firms a display of all relevant credentials to include:
• Press
• VIP
• Artist
• Security
• Production Staff
• All Access

This display is required in order to identify event personnel and access availability.
Open fires (cooking or otherwise) are generally prohibited on park land.

The Permittee, exhibitors, and contractors must comply with all applicable National Fire Protection Association codes.

Materials used in the construction of displays and decor must be fire resistant, and labeled as such. All exhibits and displays are subject to inspection by NPS for compliance.

Operation of any heat producing or smoke emitting devices or materials requires written authorization from NPS. Storage of propane is prohibited.
Refueling compressed gasses, flammable liquids or dangerous chemicals, is prohibited without prior written authorization from NPS. Pressurized containers housing flammable propellants (aerosols) are prohibited without prior authorization from NPS. Contact the NPS Permit for further direction.

Propane may be permitted for purposes of cooking and/or heating, however, restrictions on the number and size of propane cylinders permitted on park property will apply. Propane cylinders may not exceed 100lbs unless approved by NPS.

Propane tanks must be secured and in compliance with limits imposed by the NPS Fire Marshal. If the NPS Fire Marshall approves the Permittees's use of compressed gases/flammable liquids/aerosols, cylinders shall be distributed to limit the risk of damage to persons and properties in the case of an emergency. Only one compressed gases/flammable liquids/aerosols cylinder per heating/cooking unit is permitted.

The location of compressed gases/flammable liquids/aerosols cylinders must be approved by NPS in advance.
Written approval form NPS is required to cook in exhibit booths when food or food equipment products are part of the event. Please not the following:
• The use of any flammable or combustible liquids, compressed gases cylinders, hazardous materials or chemicals as fuel is restricted.
• A fire extinguisher with a minimum rating of 3A40BC must be present and displayed in each booth where cooking occurs.
• Deep fat fryers, wood or coal burning equipment and bottled gas cylinders are prohibited without advance written approval from NPS.
• Events involving cooking or food preparation must provide utensil clean-up areas.
• Proper containers, such as grease barrels must be utilized for disposal of oil and grease and other excess wastes. Disposal of cooking residue into the public storm sewer system is strictly prohibited. Disposal of cooking residue onto the ground (softscape or hardscape) is strictly prohibited.
Hazardous chemicals and materials, including but not limited to pesticides, herbicides, poisons, flammable or combustible liquids, hazardous gases, pressure cylinders or tanks, and hazardous chemicals including oxidizers are restricted.

The spillage of deleterious substances such as engine oil, gasoline, or the like is prohibited. In the event of such a spillage, the District of Columbia Fire Department (or other local fire department) must be called immediately, by dialing the 911 emergency numbers, followed by a call to USPP dispatch at (202) 619-7500. Corrective action will be taken in accordance with applicable Environmental Protection Agency Hazardous Material Guidelines.
First aid and emergency response systems should be organized by the Permittee. First aid and emergency response systems include first aid tent, CPR/AED certified personnel, and necessary equipment.

First aid tents or stands must be shown on the Site Plan.

Events with large crowds expected may need to collaborate with local EMT units for ambulance services and professional EMS staff on-site. It is recommended that you consider the guidelines of the District of Columbia Department of Fire & Emergency Medical Services (D. C. Fire and EMS). See the chart below for guidelines that will ensure that appropriate medical coverage is provided throughout the event.

Depending upon the weather, the Permittee may be required to provide cooling stations, misting tents, bottled water for attendees, or warming tents.
• Based on the weather, demand and size of the event a sufficient supply of water should be available and an additional amount should be readily available
• Refrigerated trucks should have a sufficient amount of water on stand by
• Sufficient cooling stations should mirror the number of first aid tents

First Aid tents should:
• Be strategically located
• Have adequate power to support interior LED lighting in lieu of halogen lights
• Have adequate power to support air conditioning/heating with fans or heaters depending upon the weather conditions
• Have sufficient water in the first aid tents
• Be walled for privacy
• Be easily identifiable via a red cross, red flags, or similar)

For special events of 10,000 attendees or more, a safety zone grid system may be added to the event. The safety zone will include areas zoned within the crowd by bike racked perimeters. All zones must contain a first aid tent, portable restrooms, access to water or beverages and, a USPP unit. Emergency transport zones will have a ten (10) foot open traffic lane for emergency vehicles. Permittee must provide the bike rack, tenting and portable restrooms. Zones will be determined by the USPP Special Event Coordinator.To ensure that requirements for first aid and/or emergency medical services are met, please contact: Department of Fire & Emergency Medical Services, Emergency Medical Services-Special Events Coordinator at (202) 673-3274.
First Aid and Medical Emergenices
X=Required, *=Recommended, (1)=Multiple units may be required depending on history and size of event, ALS=Advanced Life Support, BLS=Basic Life Support, EMT=Emergency Medical Technician
Event Type
Crowd Size (anticipated)
CPR & 911 Access
Medical Aid Station (BLS)
Medical Aid Station (ALS)
Medical Aid Station (with Physician)
Ambulances (BLS or ALS)
Mobile Med Teams
Concert Music Cultural Festival
<2,500
X
X
*
2,500-15,000
X
X
BLS*
*
15,000-50,000
X
X
*
ALS(1)
X
>50,000
X
X
ALS(1)
X
Walk Run Bicycle Race
<2,500
X
X
*
2,500-15,000
X
X
*
BLS(1)
X
15,000-50,000
X
X
ALS(1)
X
>50,000
X
X
ALS(1)
X
Parade
<2,500
X
*
*
2,500-15,000
X
X
*
BLS*
X
15,000-50,000
X
X
ALS(1)
X
>50,000
X
X
ALS(1)
X
First Amendment Activities
<2,500
X
*
2,500-15,000
X
X
*
BLS(1)
*
15,000-50,000
X
X
*
ALS(1)
X
>50,000
X
X
ALS(1)
X
Section 6. Media and Filming
Section 7. Organized Runs, Races, and Bicycle Events
Section 8. Appendix
Use the following checklists to ensure you have met all the deadlines outlined in the manual and meet the conditions of your permit. Timelines may vary.
QUICKLINKS
Permits

Get more information about permits for special activities, First Amendment demonstrations, and commercial filming and photography.

Permit Office Contact Information

Find contact information for the National Mall and Memorial Parks' Division of Permits Management and neighboring parks.

Park Management

Learn more about management of the National Mall and Memorial Parks, including laws, policies, and regulations.
Last updated: February 27, 2020