Owls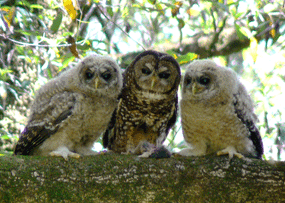 Viewing Owls
Hearing the thrilling call of an owl provides an exciting experience for the park visitor. Encounters with these birds either by hearing them or seeing them in flight can be the highlight of a trip into the National Park sites of Marin County, CA. Find out more about owl research and populations, and then get out into the park!
Owling Tips:
Owls are nocturnal birds. They are best seen at dawn or dusk. The following are a few pointers for viewing the owls.
Do:
Look for indications of the owl's presence while hiking on trails and roads. White wash on ground or on tree branch, owl pellets or nests all tell of the possible presence of owls.
Stay on roads or trails in order to keep habitat disturbance to a minimum. Look for the bird near sunrise or sunset.
Stop and listen for their calls.
Bring binoculars or a spotting scope. Most owls are shy and elusive. Your view should be from a distance to avoid altering the owl's behavior. Keep in mind that the Northern Spotted Owl is a protected species. Federal law prohibits close contact between humans and the owl.
If you should discover an owl, be very still and quiet. Do everything in slow motion. Sink slowly to the ground to appear less threatening. If the owl no longer feels threatened, you may get to watch it relax – a real treat. If the owl looks alarmed (elongated or moving its head back and forth, and giving a lot of calls), back off very slowly and quietly, keeping your profile low.
Limit your time with the owl. Excessive activity near a nest may result in nest failure by keeping the adults away from the nest for too long, by leading predators to the nest, or by causing curious or frightened nestlings to fall our of the nest. If the owl is near by your home, visit the owl infrequently (no more than once every 3 to 4 weeks).
Leave the area if owls are mobbed by other birds, which may attract other predators, like common ravens, to the nest or roost location.
Keep the owls a secret. Resist the temptation to tell people the location of nest sites. Owl's need privacy to hunt and raise their young. Divulging the owl's location may endanger it or cause it to leave the area.
Use basic birding etiquette at all times. Respect private property and "no trespassing" signs.
Do Not:
Do not use call tapes, imitations of owl calls, or spotlights with any threatened or endangered species. Calling or spotlighting of any wildlife in a national park is forbidden by federal regulations.
Do not disturb a nest or roost site by getting too close, even for photos. You may be the reason a nest fails or a roost is abandoned.
Do not use flash photography or shine light directly on owls when they are roosting, flying, or capturing prey. Bright light might cause owls to temporarily lose their vision and increase the likelihood of a collision or injury.
Living with Northern Spotted Owls:
Spotted owls are year round residents in many Marin County, California forests. They are most vocal during nesting season, February through July. If you have owls near your home, hear are a few "good neighbor" guidelines:
Do:
Protect their privacy! Leaving the owls undisturbed is the best way to be a "good neighbor."
Plan heavy yard maintenance and tree trimming from August to January, non-nesting season.
Consider restricting continuous or loud noises, which may interfere with their ability to communicate and raise stress hormone levels.
Bring dogs indoors at night. Barking may disrupt communication between owls.
Avoid attracting ravens to your property, by cleaning up trash and storing animal feed in secure containers. Ravens are predators of Spotted owl nests and young.
Keep owls wild!
Do Not:
Do not call the owls. Spotted owls are a threatened species. Therefore, they are protected by federal law from harassment, such as "calling" (imitating owls to call them closer or make them more visible).
Do not disturb the owl nest trees. Owls choose their nesting trees very carefully. Disturbing a nest tree may mean the failure of the nest and the death of the chicks.
Do not feed owls. Feeding attracts owl predators and puts them in danger. They are great hunters and will help control rodents.
Do not use rodenticides which could be ingested by hunting owls.
Do not pick up an owl that is on the ground. In May and June it is normal for young owls to be on the ground while they learn to fly. The adults are usually nearby. Keep your distance and keep pets away from the grounded owls.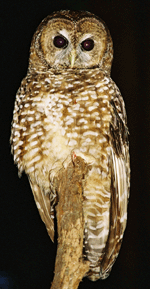 Visiting the Parks at Night:
Visiting a National Park at night is a very special experience. The crowds are gone. There are opportunities to see nocturnal creatures and enjoy the peace and quiet of night. Marvel at the night sky and have an adventure!
To ensure you will enjoy you night visit, it is important to plan appropriately. Here are a few suggestions:
Dress warmly, wear sturdy hiking boots.
Bring a flashlight, binoculars, and a star chart.
Carry a day pack with warm drinks.
Call ahead to make sure the park you are visiting will be open:
Muir Woods: (closed at night) 415-388-2595 (Nature Hotline)
Point Reyes: 415-464-5100
Golden Gate: 415-331-1540 (Marin Headlands Visitor Center)
Suggestions for good night walk in owl habitat:
Point Reyes: Bear Valley and Bolinas Ridge Trail
Golden Gate: Tennessee Valley and Rodeo Valley Trails (Look for Great horned and Barn owls on these trails. These two trails are not in known Spotted owl habitat.)
Join a special evening program (such as Footloose Forays, Marin Headlands Visitor Center, Marin County Open Space District, Point Reyes Field Seminars, and Point Reyes Visitor Center, or a Muir Woods Moonlight Walk).
Last updated: October 6, 2020