This plaster "sketch" (SAGA 1436) was created in 1885 by Augustus Saint-Gaudens while designing a memorial to Robert Gould Shaw and the Massachusetts Fifty-Forth Regiment. The Shaw memorial commemorates the African-Americans who served with the Union army during the Civil War. The sketch and the Shaw memorial are in NPS collections at Saint-Gaudens National Historic Site. This picture shows how the object looked before treatment. The iron nail protruding from the base had been used to mount the head to a block of wood.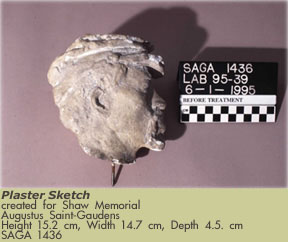 CONSERVATOR'S DESCRIPTION
Condition of Media: Paint has flaked off or is unstable in many locations, particularly on the forehead. There are losses to the plaster on the brim of the hat, and numerous smaller losses overall. The surface is dirty. A penciled numeral "3" is on the top of the head. A corroding iron nail protrudes from the base of the head at the bottom of the neck.